Having the perfect kitchen in your camper van is essential for having a blast on the road. 
Trust me, after traveling my own van through all 48 states, I know how crazy important a quality kitchen can be. 
Cooking, storing, and preparing food are essential to living well on the road, and figuring out the best ways to do it while in a compact space like a van takes some planning.
As I alluded to above, I built a campervan myself and traveled across a big chunk of the U.S. in it, so I know a thing or two about cooking, eating, and living in a van.
And when you live in a van for as long as I have, you learn a thing or 2–or 7. 
Below, you'll learn:
7 game-changing tips I wish I knew before I started living in my van
Ideas for saving space so you'll be able to cook a delicious meal and travel comfortably
Appliances I highly recommend that will make your life way easier (that I've used myself)
---
Should You Build a Kitchen and Cook in Your Van?
The first question to ask yourself is whether or not you want a kitchen in your van. Let's face it, many of us don't like to cook. While it can be a great way to save money on the road and extend your time between stops, many grocery stores offer huge selections of delicious prepared food that can be eaten chilled or heated without significant cookware.
Being on the road also makes it easy just to eat out if that's what you're into.
For myself, though, I say you should have at least a basic kitchen setup. It doesn't have to be fancy, but it should cover the bases of prepping, boiling, and heating needed to cook various meals.
One great way to do that is a camp stove and camp pot/pan set. That allows you to cook when you want to without taking up additional space in your van.
---
1. Camper Van Kitchen Layouts I Recommend
Once you know you want a dedicated kitchen space, The first thing to ask yourself is where you want it within your build. Many people go for a classic RV-style buildout with a counter/kitchen area against one wall opposite the side doors and pressed up against the bed area.
This is actually how I built out my van a couple of years back, and it worked pretty well. I went with a writing desk bolted to the floor and walls of my van and used it as a combination writing space, utility area, and kitchen counter. 
I mounted a set of storage drawers beneath and used the right-hand set of three as kitchen storage, including a 'pantry' drawer on the bottom for dry goods.
If I were going to do it all over again, I'd probably take the time to build out a back door kitchen area. It takes advantage of the space at the back of your van and allows you to cook outdoors without getting smells and condensation in your van itself.
---
2. Permanent or Modular/Mobile Van Kitchen
A big question to ask is whether you think you need a permanent kitchen setup. They give your van a more polished look, but they're also a lot more expensive and can be a much bigger headache to install.
There are plenty of great companies making RV and Marine stoves and even ovens, but for the van life enthusiast, space can be at too much of a premium. It's also all but guaranteed to be more expensive than using a mobile concept that you can piece together as you go along.
I, personally, was and still am a big fan of the mobile concept. 
My kitchen was an old-school two-burner propane camp stove. It wasn't fancy, but it was very affordable, and it got the job done in and out of the van.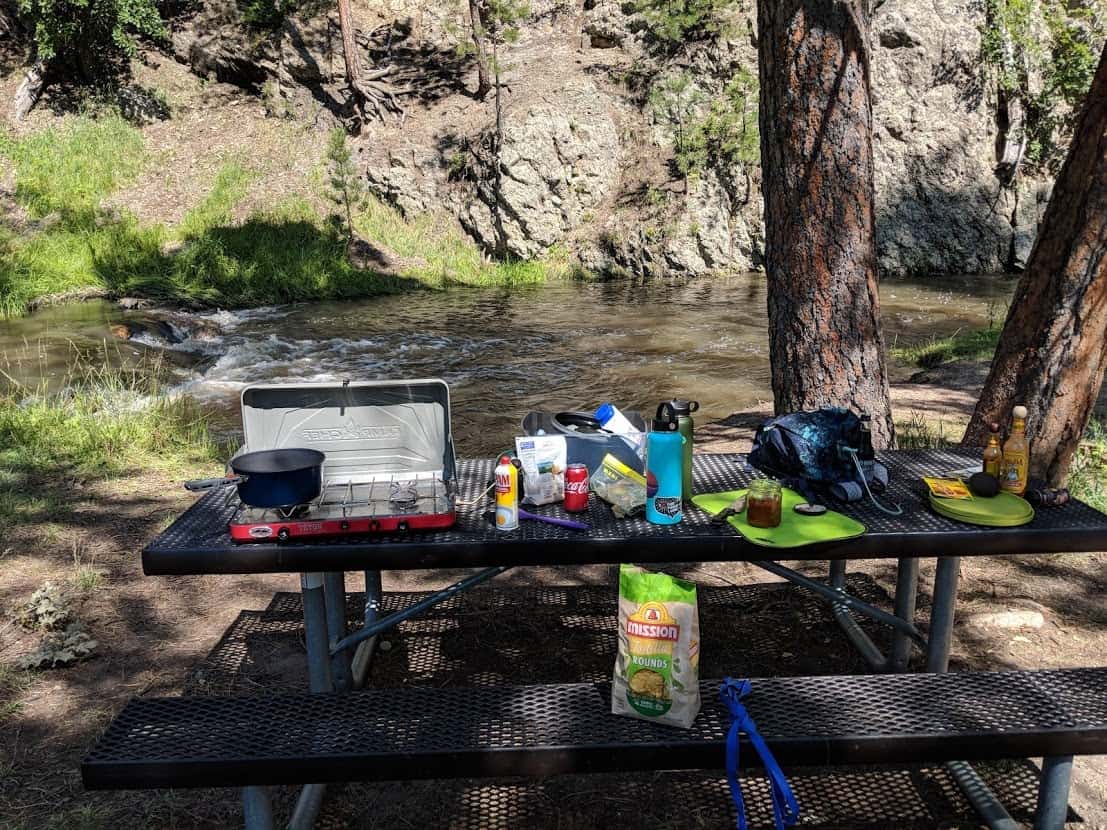 It also had the added benefit of being stealthy and space-saving. I could stow the stove away when it wasn't in use, allowing me full access to counter space, then take it outside to cook on a picnic table or my folding table to avoid the buildup of heat and condensation inside my van.
---
3. Outdoor Van Kitchens
One of the coolest setups I see in new Vans is hitch-mounted and back kitchens. These can be as simple as a set of bolt-on shelves with a slideout table or as downright awesome as a whole camp kitchen with a DC fridge, sink system, slide-out stove, and multi-point storage for spices, food, and kitchenware.
The benefit of this design is that you can quickly deploy your kitchen when you want to cook without losing a significant amount of interior space. Plus, you avoid the hothouse effect that comes from running a hot stove, boiling pots, and all kinds of other cookery inside your van.
I remember sometimes up in the Wasatch Range of Utah where it got so steamy inside my van just while boiling water for ramen that I could barely see through the haze. That's uncomfortable, but it's also bad for the interior of your van and your stored gear.
The biggest downside of an outdoor kitchen in this style is that you can't really be stealthy while you cook. You have to open up your back gate or doors and deploy the stove out. Try doing that in a Walmart parking lot and see how long it is before the manager comes to check on you.
If you want to take the kitchen out of your van completely, you can go with a hitch-mounted system much like an old sea chest.
These bad boys are the most 'plug and play' kitchen system I've yet seen. You can order them from a range of companies. I'm a fan of the Overlander from Tailgate N'Go, but they get pricey really fast.
---
4. How to Save Space and Stay Organized in Your Campervan Kitchen
In a campervan, space is at an absolute premium. We're dealing with square footage numbers that make Tiny Homes look like McMansions and have to use every square foot as efficiently we possibly can.
Organization is critical for this. It can take many forms, including pullout drawers, lockable cabinets, RV-designed cabinets, and under-counter spaces. For myself, I went with an undercounter drawer system with each drawer Tetris'd full of different gear, goods, and kitchenware in the order used most.
Having an organized and potentially labeled storage space makes it easier to keep your area uncluttered and maximize the amount of gear you can pack into it.
---
5. How to Power Kitchen Appliances (and Should You Actually Do It)
There's a veritable army of time-saving cooking tools to help with virtually any cooking task in the modern American home. If you're used to things like a blender, an Instant Pot, or even something as basic as a coffee maker, it can be a serious adjustment to give them up.
While it certainly is possible to power appliances in a van (See my article on setting up a tiny home electrical system for a good overview), I don't recommend it. To be blunt, most appliances are real power hogs.
Even a tiny little blender such as a NutriBullet draws several hundred watts while operating and can put a strain on all but the most potent van inverters and battery banks. Things like electric ovens, induction burners, etc., are totally out of the question.
---
6. Van Life Appliances I Recommend (And One's I Don't)
Let's face it, van life has hit the mainstream in a big way, with even Oscar-winning movies exploring life on the road and everything it entails. With that newfound awareness comes a wave of products, gadgets, gizmos, and 'Must-Haves' from all kinds of different companies that you probably don't need.
Appliances are just one element of this explosion of choices, but one that can quickly become a costly and space-heavy part of your van if you aren't careful. When I built out my van, I wanted to be as minimal as possible, so the only actual appliances I brought with me were a used Yeti cooler and a Coleman camp stove.
The cooler kept my food cold on a $2 bag of ice a week, and the camp stove cooked up virtually any meal I could think of making.
The only two appliances I actually recommend for van life are a quality DC refrigerator and a good stove.
Do You Need a Refrigerator in Your Van?
The cooler worked very well, but it was a hassle to bag up all my cold food, and draining it weekly could be annoying.
A modern DC refrigerator is an excellent addon if you're willing to spend a bit. They're highly capable, draw less power than you'd think, and come in a variety of sizes and shapes to fit them into your floor plan. I'll go more in-depth on the DC fridges I recommend for van living in a later article, but if you are looking for a good option, I love this one from Dometic.
Stoves
Stoves for a camper van are a must-have item. All the cooking you'll do, minus a bit of classic campfire cooking, will be over your stove. What kind of stove you choose to go with will affect the overall design of your campervan and how much space it takes up.
---
7. Don't Expect it to be Perfect Right Away
Let's face it, no matter how many articles you read on the topic and how well you plan, there are going to be things you don't realize you need or that you don't find out you dislike until you're actually out in your van.
I'll do my very best to run over the key considerations on what to look for, what kinds of cooking styles there are, and your options for stoves, refrigerators, etc., but you should go into your experience expecting to tweak things a bit to your taste once you get going.
Case in point, when I started out, I was convinced I would need a complete set of pots and pans. After all, what if I needed to cook two different dishes for a big meal?
It became obvious really quickly that a good set of nesting pots and pans covered 99% of my needs and took up a lot less space than traditional cookware.
You'll no doubt find plenty of things like that as soon as you're out using your van and living the van life. This is especially true if you're going with a more mobile/modular approach to your kitchen.
---
Campervan Kitchen Essentials
Not everyone is looking to take out a mortgage on a top-of-the-line van, for those trying to build a quality van on the cheap, you don't need to drop a ton of money on your kitchen setup.
For those just starting and looking to start with the basics I recommend:
A good camp stove and some fuel
A basic set of camp pots/pans plus cutlery, cups, and plates/bowls for you and whoever's traveling with you (some people choose to go with disposable for easy cleaning, but I'm a fan of more sustainable options)
Pam/cooking oil
A spatula and a stirring spoon
A knife and cutting board
Aluminum foil
Your essential spices (these will vary person to person, but you know what you generally cook with)
Water source, either bottled or a more permanent solution
Cooler or fridge to store cold food
Cleaning Supplies:

Paper towels/cleaning rags (can be harder to clean in a laundromat, but an option)
Trash bags (Small bags work better, as they can be disposed of in gas station/rest area trash cans)
Dish cleaning kit – I recommend a few spray bottles, one full of fresh water and another with a little dish soap. They make it easy to clean your dishes without a sink and then quickly rinse them off
Surface safe cleaning product – You can use either disinfectant wipes, a traditional spray like Windex, or a more eco product, whichever you prefer
For myself, I realized in the first couple of weeks that I hated the way oil splattered while I was sauteing or frying things, so I picked up a metal mesh splatter guard.
---
Final Thoughts
A camper van kitchen can be as elaborate or as basic as you desire. There are a lot of benefits to a permanent kitchen built into the body of your van, but it really comes down to what you want to spend, how much cooking you plan to do, and how much space you're willing to dedicate to the kitchen alone.
Got a hankering for more awesome related content? We got you covered! Check out the pieces below:
DIY Campervan Conversion Guide
DIY Guide for Campervan Insulation