When living in a tiny home, space is at an absolute premium.
Most tiny homes measure just a few hundred square feet and require some very specialized furniture choices. Everything in a tiny home needs to have multiple uses to fit in. 
Keep reading to learn about some of the best tiny house furniture ideas we could find. They're great for studio apartments and other small spaces as well.
Tiny House Furniture Table and Desk Ideas
Whether you're trying to enjoy a meal as a family or get some work done, you'll need a table or desk to do it on.
With space at an absolute premium in tiny homes, it takes some serious ingenuity to find the best combination of usable surface area and packability.
Drop Leaf Tables
If you like the idea of a traditional kitchen/dining room table, but don't want to give up a ton of floor space, a drop-leaf table is a great compromise.
Instead of taking up the full surface space of a table, they fold down to a fraction of their open size.
This gives you the option to tuck them away in a storage slot or snug against the wall when not in use.
If you're handy there are plenty of great DIY guides available.
If DIY is not your thing, or you are already overloaded with projects, you can choose from tons of great ready made tables.
Natural Hardwood Butcher Block Folding Table
Perfectly sized for two, this double leaf table comes in an attractive natural hardwood finish and proves a 2' by 3' table surface.
You can raise one or both leaves depending on the space you need and easily fold it down when done.
With both leaves folded away, it takes up just 10"x24" of space. That leaves tons of usable floor space for yoga, board games, or other activities. 

Anya Nana 42" Round Drop-Leaf Kitchen Table
If a round kitchen table is more your style, this double leaf table from Anya Nana might be just the thing.
It measures 42" in diameter when both leaves are up and is 29.5" tall. That's a pretty substantial table, more than enough for four to comfortable enjoy a tasty meal.
When you drop the leaves, things start to get interesting. It's just 7" wide with both leaves down, small enough to fit just about anywhere without getting in the way.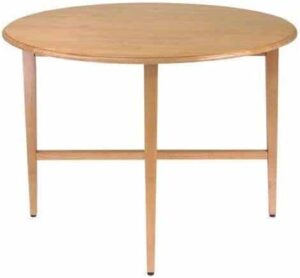 Wall Mounted Tiny Home Tables and Desks
One of the most popular tiny home furniture choices is wall-mounted tables and desks.
These attach right to the wall of your home and fold down flat when not in use. This gives you tons of flexibility in how you use your space.
What's even cooler is just how easy they are to make and install.
If you're the handy sort, you can DIY one in whatever material, color, and size. See below for an amazing video that shows how to create a DIY Murphy desk:
For the rest of us, thankfully, there are tons of really nice wall tables and desks that install with just a few screws.
Furinno Wall-Mounted Drop-Leaf Desk
If you just want somewhere to write about your life epiphanies deep into the night or work on a project, the Furinno Wall-Mounted Drop-Leaf is an inexpensive and highly effective solution.
It screws right into your wall studs and provides a stable 23.6"x15.8" work surface.
Once you're done with your work or meal, it folds flat against the wall, sticking out just a few inches. 
The Quick Bench Folding Wall Mounted Table
If you need more room or plan to entertain in your tiny house, the Quick Bench is easy to install and a stylish option.
It comes with a really nice butcher block table top that measures 48" x 20" when upright.
That's enough room for four to sit comfortably, yet when folded into the wall it takes up just inches.
Even better, the bolt design of the hinges allows you to attach it at any height that works for you. 

Tiny House Furniture Storage and Wall Beds
Where you sleep in a tiny home is a much bigger question than in a traditional house.
Your bed's going to take up a lot of space, it's important that you combine that space with other uses to maximize your comfort and living area. 
Tiny House Wall Beds 
If you really want to maximize the space in your tiny home, a wall bed, commonly known as a Murphy bed, is a great way to do it. By giving up just a foot or so of wall width you gain tons of usable floor space.
See what that looks like in a real tiny home by fast forwarding to 3:59 to 4:48 in the video below.

There are tons of really cool plans and guides you can find online that let you build your own. These vary from basic hidden beds all the way to seriously multifunctional ones.
Some of the coolest Murphy beds are designed with desks and tables built right in. This kind of double and triple duty tiny home furniture lets you take multi use space to the next level.
You can also find couches, benches, bookcases and storage shelves on the underside of a Murphy bed. When every inch of storage space counts, it's nice to have that little extra even where you sleep.
If you prefer to avoid construction level DIY work when setting up your wall bed, a Wilding Wallbed kit may be just the ticket. Instead of cutting and staining lumber, you can quickly and easily assemble your bed using detailed, step by step instructions. 
Tiny House Storage Beds: Drawers
One of the most common ways to add storage space into your bed is with underbed drawers.  These allow you to securely store clothes, books, and anything else right underneath your sleep space. 
They're easy to DIY, basically just being a platform box bed with roller drawers, or available in a huge range of ready-to-assemble kits in a variety of styles and materials. Just about the only limiting factor with a tiny home storage bed is height. 
You don't want to have too many drawers stacked one on top of the other or you'll end up really close to the ceiling in a loft space. 
South Shore Flexible Platform Bed 
For an elegant and minimalist look that still provides ample storage, the South Shore Platform Bed is a great option.
Basically, it's just a group of storage cubbies linked together with bed slats, which gives you tons of flexibility in what you store and how you store it.
The bed has nine different storage cubbies going all around the front and sides of the platform.
It includes four fabric storage bins to help keep your things organized and mix up the look between the drawer and shelf around the bedside. 
You can find the South Shore Platinum Bed on Amazon right now for a great price.
Tiny House Storage Beds: Lift Up Beds
To truly maximize the use of your under-bed space while retaining easy access it's hard to beat the lift-up bed.
These beds allow you to lift up your entire mattress with hydraulic arms. 
Instead of searching through multiple drawers, you have a single-well concealed storage space to keep all kinds of items in. This lets you store larger goods like backpacks, outdoor gear, or large bags.
IKEA Malm Lift Up Storage Bed
IKEA has long been a favorite of minimalists and tiny dwellers for their range of space-saving furniture and tools.
The Malm lift up storage bed from IKEA continues in this tradition with a stylish bed that hides a large under mattress storage space accessible by raising up the bed.
It's available in Full or Queen size plus a pair of color options. Like all IKEA furniture, some assembly is required.
You end up with a quality bed that provides one of the most efficient and easy-to-access storage solutions for a small space.

Tiny House Trundle Bed with Platform
One of the coolest tiny house furniture ideas we've ever seen is 100% DIY. Instead of having a loft sleeping space with a dedicated living area on the ground floor, build out a trundle bed underneath a day-use platform.
Tiny houses on wheels (also known as "THOWs") designs usually have very tall ceilings to take advantage of all the available space.
Most tiny home plans close off one side of the floor plan in the bathroom/kitchen space and put a loft space above it.
Lots of tiny dwellers choose to sleep in this space and install a storage loft on the other end of the tiny home.
If you leave that end open to the ceiling instead, you can use your primary loft as storage/activity space and combine your living and sleeping space into one.
A trundle bed doesn't allow much in the way of storage but it does let you significantly increase your living area.
Ideas2Live4 created a really nice step-by-step guide that helps you figure out how to make it a reality in your tiny home. 
Other Tiny House Furniture Storage Ideas
Beds aren't the only place you can add in storage for your tiny house. Just about any piece of permanent tiny house furniture, you use can be adapted to provide storage space.
Hidden Storage Bench/Couch
We're firm on the opinion that tiny house storage should always double as storage space. This lets you make the best use of the available space without taking away from your living area.
There aren't a whole lot of storage couches you can buy, but there are tons of easy-to-follow DIY instructions that give you a lot of cool features. The easiest way to do this is to build out a basic wooden box in the length and height you like, then fit cushions on top. 
This gives you lots of usable storage space and a comfy place to sit. If you really want to get fancy with it, add in a slide-out partition that lets you turn your couch into a comfortable bed for guests or friends.
The coolest design we've seen so far comes courtesy of TinyHome.io. They used a twin futon mattress for the couch cushion and built out a sliding track system to quickly extend their couch into a bed. 
It gives you a lot of storage space without reducing your living area at all. Check out their step-by-step photo journey to get inspiration for your own tiny house storage couch.
Tiny House Staircase Storage
If your dream tiny home includes a loft, you're going to need a way to get up there. Many tiny dwellers choose to go with a ladder to minimize lost floor space, but we've always been fond of the multi-use staircase design.
It's a lot easier to access your loft and it provides you with an attractive set of shelves or drawers. You can go with the classic solid staircase with open front shelves, as seen in this gorgeous example. 
 
If you prefer something a little more discreet, a set of steep stairs with hidden drawers might be more your speed. The stair tops are built into the walls but each one also hides a slide-out drawer perfect for tucking away all kinds of things.

The Sky is Truly the Limit
Tiny homes represent freedom, sustainability, and the choice to live life intentionally. Nothing captures the spirit of this more than the endless ways you can customize your furnishings.
The best tiny home furniture ideas aren't always ones you can find in the stores. To get exactly what you want sometimes you have to roll up your sleeve and break out the old hammer and saw.
In the end, though, you get a space perfectly customized to your own needs and desires, at a bargain price too.