In 2019, when we began converting our 112 sq ft cargo trailer into our tiny home on wheels, I had no idea what I was getting myself into. After months of DIY projects, and countless trips to the hardware store, we had a renovated cargo trailer and we hit the road full time. 
Building our  6×12 converted cargo trailer has given us the freedom to make more memories, instead of collecting more things. Plus, building your own tiny home on wheels is one of the most liberating experiences. 
If you are considering converting your own cargo trailer, this step-by-step guide will help you navigate planning and construction. 
Why Build Out a Cargo Trailer into A Tiny Home? 
Buying an RV can be expensive and leave you with a design you're not really happy with. Plus, if you have specific needs, like a dog kennel you will most likely be making modifications anyways. So why not design something that works for your needs and costs a lot less. 
It's Affordable
If you have basic building skills, converting a cargo trailer is a great way to build a solid tiny home on wheels at an affordable cost.  Cargo trailers are notorious for being built sturdy, making them a great choice for someone who is handy with power tools. 
And It's Customizable
Cargo trailers are completely customizable. When you buy a cargo trailer, you have a blank slate. You can design it any way you want and it can have all the amenities of an RV or tiny home.  As long as you keep in mind your axle and tire weight limits, your tiny home dreams can become reality. 
What is the Cost of a Converted Cargo Trailer? 
For a single axle cargo trailer, it can cost anywhere from $1,000-$4,000 for 7×14. Expect to pay $3,000-$15,000 or more for a dual-axle cargo trailer. 
What's the Best Enclosed Cargo Trailer Brand? 
When purchasing a new cargo trailer, there is a lot to consider. Each trailer can vary from size, width, height, and color to weight-bearing capacity and budget. The options can be overwhelming. We personally went with A look cargo trailer because we could custom order the size and height we wanted.  Here is a list of the different brands of cargo trailers out there:
Look

Haulmark

Continental Cargo

Pace American

Diamond Cargo
Build and Design your Cargo Trailer to Fit YOUR Needs
Make sure you know exactly what YOU need in your cargo trailer. Do you have pets? Children? What are your hobbies? Will you be working on the road? These are all important considerations when designing your tiny home on wheels. 
Steps to Building a Cargo Trailer into a Tiny Home
Most of the construction on the cargo trailer will be building material. Like insulation boards, plywood, hardwood floors, cabinets, electrical, and plumbing. 
A great way to cut on costs of your build would be to repurpose material from a second-hand store like habitat for humanity. 
Install the Insulation
To start your cargo trailer conversion, you will need to take the plywood walls off. Since cargo trailers are not very well insulated, this will need to be your first step. Make sure the cargo trailer you buy has a steel frame. That way, you do not need to rely on the plywood walls for reinforcement. 
Insulate the trailer with 2-inch foam board. It is best to use low-VOC for healthier interior air quality. Cut down the foam board so that it fits between the support hoops and lateral rails of the trailer, then glue them in place.
Set-Up Electrical 
At this point, you will want to decide where your 12-volt outlets and lights will go. You will want to have an area for your Battery and Inverter. Run the supply from a deep cycle, or lithium RV battery, which can be charged either by your tow vehicle, solar panels or have the ability to connect to shore power. The 12-volt circuits must always leave the battery's positive terminal, pass through the appliance, and return to the battery's negative terminal. 
This is the one area of your build you might want to hire an electrician. We were fortunate that Jake's dad is an electrician and could help wire our cargo trailer. 
Read more about how to power your tiny home here.
Put up the Walls
Line the interior walls with light-weight paneling. Measure your walls and cut to size before attaching them to the support hoops and lateral rails using self-tapping screws.
Install the Windows
The great thing about building out your own cargo trailer is that you get to decide where your windows will go, how big you want them, and how many to have. We ordered our cargo trailer windows off Amazon. 
To cut windows out of the cargo trailer, mask off the area you are cutting and use a Sawzall or Plunge Router. 
Install Fans 
Fans allow air to flow out of the trailer through the roof. Installing a roof fan will also help with humidity. We installed 2 fans. One in the front where the shower is, and one above the kitchen. 
Install the Floor
Most Cargo trailers come with unfinished plywood floors that you will want to cover up. When deciding what floor to install in your cargo trailer, you will need to pick a material that won't break when the trailer moves. We opted for a vinyl hardwood floor because it has enough flex when we move, it looks like beautiful hardwood, and it's extremely durable. Plus, it's easy to install. 
Read more about tiny home flooring options here.
Set-Up Plumbing 
If you want to live off-grid in your cargo trailer, you will definitely want water for your kitchen sink and a shower. This was the most daunting part of the build but if we can do it, so can you! 
We used a tankless hot water heater that gives you hot water on demand using propane and a water pump. And, we don't even have a freshwater holding tank. We simply use water jugs.
Learn more about tiny house plumbing options here.
Choosing the Right Toilet
Porta Potty 
We have a 5-gallon porta-potty style toilet and use these holding tank deodorizers to keep it from getting smelly and dump at an RV dump station once a week. 
Compost Toilet
If it is in your budget, I would recommend going for a composting toilet like Nature's head self-contained compost toilet. These toilets are great because they don't have the foul odors associated with all other holding tank systems and compost your waste without much effort using wood pellets. Click here if you want to learn more about other dependable composting toilets on the market here.
Solar 
If you know you are going to be off-grid, we suggest harvesting power from the sun and investing in solar panels. Even being off-grid you still need to power your fridge, water pump, and lights. We used the Renogy Solar Panel Kit and have 600 watts of solar on the roof. 
Read more about off-grid solar kits that won't break the bank here.
Heating the trailer 
Wood Stove
We have seen many conversions install cubic mini wood stoves. These are great for providing dry heat. But you have to consider hauling wood around, plus you must allow extra space around the woodstove so nothing melts. It might not be a good option if you have kids or dogs. 
Propane 
Propane heaters are great because they don't take up very much space. They use radiant heat as a result of a flameless catalytic combustion process. We have a Wave 6 Propane Heater and we have it hooked up to a 20 gal propane tank on the hitch of the trailer. *Please make sure you open a window when operating this or any other propane heater. It can pose a carbon monoxide hazard when used without adequate ventilation.
Read more about 4 dependable tiny home heating options here.
The Living Quarters 
The beautiful thing about designing your living area in your cargo trailer is that you can have as many or as few accessories as you want. Our goal is to give you an idea of the limitless possibilities you could do with the space. 
A good place to start is by making a list of all the essential components you will need to make your cargo trailer livable. Then you can calculate how much each of those options will cost, their size, and where you plan to install them in your build. 
Bed 
There are a lot of creative ways to design your bed. Murphy bed, platform bed, futon bed. We needed space for the dogs, so we opted to raise the bed 3ft off the floor and create a dog kennel underneath. 
Cabinets 
The cheapest way for us to build our kitchen was to get most of our cabinets from a second-hand store. Each cabinet had a different stain finish, but it was easy to sand them all down and paint them all to match. Add some matching hardware and wa-la they look brand new! You could also build your own cabinets if you are a handy woodworker.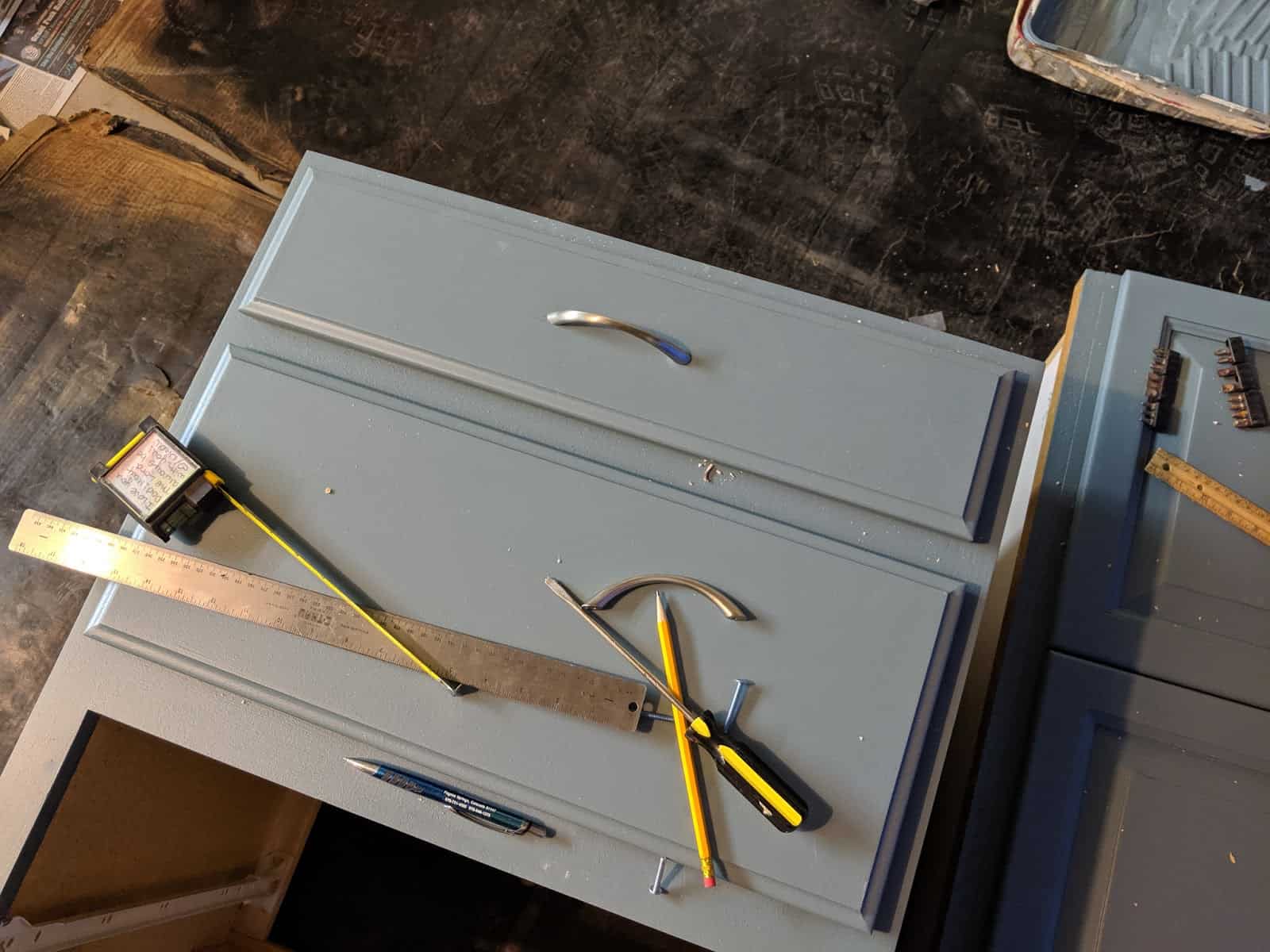 Countertops 
Our countertop is a solid 7 ft piece of butcher block that we cut down to size and could place a sink in. 
Desk/Table
This is optional. You could place a small armchair here or a bench. We decided to build a Murphy desk for working and eating. If we could re-do this area we would have loved a sitting area instead with a swivel tabletop. This could also be for additional storage space for clothes or a pantry. 
Finishing Touches
At this point, your cargo trailer should be looking like a home. 
Do a test run
Now that your cargo trailer is built, it's time to give it a test run. Especially, if you plan to live in your cargo trailer full time. You will want to do a short weekend trip to be confident everything works the way it should in your cargo trailer before you set out on longer adventures. 
What are the Challenges? 
As with any DIY project, you will probably run into a few problems. But, fortunately, there are a ton of resources out there to walk you through different steps of your build. We used plenty of youtube tutorials to help us figure out plumbing and navigating our solar system install. 
Some campgrounds will not allow converted cargo trailers. 
We have run into this issue a few times on our travels. We call ahead to RV parks and campgrounds and ask if they allow cargo trailers and they say no. It's a huge inconvenience. This is because the RV parks believe that self-built campers pose a bigger liability. But if you plan to use your cargo trailer for boondocking/dry camping, then you will have no issues. 
Final Thoughts
Hopefully, this article has helped you figure out if converting a cargo trailer is right for you. In my experience, it has influenced my life in a positive way. We are so pleased with how our cargo trailer conversion into a tiny home turned out. It has everything we need for off-grid adventures while still having the comfort of home feeling. 
Happy Converting! 
About The Author
Nicoll is the owner and author of Living Tiny With A Wolf, a blog focused on camping hacks, hiking guides, and tips for full-time RV living. She has been traveling in her converted cargo trailer with her husband, Jake for the last two years. Follow along on their journey right here.