One of the most challenging aspects of van, RV, and travel life is finding a reliable way to wash your clothes. Laundromats are one option, but the price per load can vary wildly, and it's often a total gamble whether the machines are even working that day. 
An elegant solution suggested to us by some readers was the Scrubba Wash Bag. It's an intriguing little tool that claims it can provide washing machine level cleaning in a lightweight and packable bag.
Today we're putting the Scrubba Wash Bag through its paces to see what makes it tick and to find out if it can live up to the hype. 
What is a Scrubba Wash Bag? 
The Scrubba Wash Bag is a lightweight, compact roll-top bag designed to wash clothes when a laundry machine isn't available. It was initially created with backpackers, digital nomads, and international travelers in mind but has become increasingly popular among van, RV, and tiny home enthusiasts.
At first glance, the Scrubba looks a lot like a medium-sized dry bag with a roll-top closure. There's good reason for that, too. The Scrubba is made of the same high-quality waterproof materials used in the best dry bags.
Once you open up the Scrubba, you can see what sets it apart. Inside the bag are long rows of firm nobules designed to act like an old-fashioned washboard.
Fill the Scrubba with clothes, water, and detergent, and the nobules act to agitate and scrub your clothes. It's much more effective than cleaning by hand in a sink. Once you get the hang of it, you can get cleaning results that rival traditional washing machines.
How Do You Use the Scrubba Wash Bag? 
Using the Scrubba is straightforward. There are just a few steps to follow:
Fill with clothes, water, and detergent
Roll the top and clip it closed securely
Squeeze out the excess air with the twist cap
Rub your clothes vigorously for 30 seconds to three minutes
Drain and rinse
Hang to dry
Once you've got your clothes, water, and detergent in the bag, the built-in nobules act as miniature scrubbers to remove dirt, sweat, and other mess. They do a shockingly good job of it, definitely better than any sink hand wash we've done before.
One thing to keep in mind is that the Scrubba is solely a wash system. You'll still need to wring out your clothes and hang them up to dry.
Scrubba Effectiveness
The Scrubba is an innovative product that takes a new approach to solve a modern problem. We looked at four key factors when judging its effectiveness: filling and sealing, ease of washing, portability, and (arguably most important) cleaning ability.
Filling, Sealing, and Purging Air
It's hard to overstate how much like a dry bag the Scrubba really is. Clothes go in the roll-top opening just like a dry bag, then add your chosen detergent and fill with water to the handy fill line.
Rolling the top was exceptionally easy. Rolling down until you got an air pocket gave a strong seal, and using the air valve to purge residual air worked much faster and more effectively than we thought. (Make sure you close the purge valve after getting the air out, we didn't the first time and managed to spurt water out all over our table.)
It forms a firm seal once clipped closed and purged of air. We had no concerns that the Scrubba would leak (after we closed the air valve) while using it.
Ease of Washing
Washing with the Scrubba is honestly a joy when compared to hand washing. It's as easy as pressing gently on the top surface and rubbing back and forth vigorously. 
Scrubba thoughtfully included a clear window to let you see what's happening inside the bag while you do so. You could see the clothes moving around and onto the nobules even though we felt like we weren't rubbing particularly hard or skillfully.
The motions are repetitive, so we recommend you put on a podcast or some good music while doing it, but it's undeniably quick, easy, and pain-free.
Portability
The Scrubba is undoubtedly the most portable and packable laundry solution. It folds down to just over six inches long, is small enough to fit in the palm of your hand, and weighs just 5.3 oz (150g).
Even better, once dried, it can double as a packing cube or a dry bag as part of your kit. We at TinyLivingLife love multi-use products, and the Scrubba definitely falls into that category.
Cleaning Ability
We kept an open mind going into our Scrubba test and set our expectations at the level of a good sink hand wash as far as cleaning ability. After the first wash, our expectations were blown completely out of the water.
We put a skeevy pair of gym socks, underwear, and a sweaty shirt in and ran them through a 90-second wash with a pouch of Tide Travel Detergent. They came out very wet (no spin cycle on the Scrubba, sadly) but with sweat marks and a drop of sauce on the shirt visibly gone.
They passed the sniff test with flying colors after wringing and drying. So long as you're willing to put in the effort, you can get cleaning results from the Scrubba that rival traditional washing machines and use significantly less water to boot.
Scrubba Material and Durability
The Scrubba Wash Bag is made from a lightweight Nylon/TPU polymer similar to that used in high-end dry bags. TPU is a durable material that offers top-notch waterproofing while still being tear- and abrasion-resistant.
The result is a lightweight bag that can be folded and rolled down to a tiny size yet still offers substantial strength. We put our Scrubba through its paces, using it on rough surfaces and even on sand, and saw no indication of tears, rips, or leaks.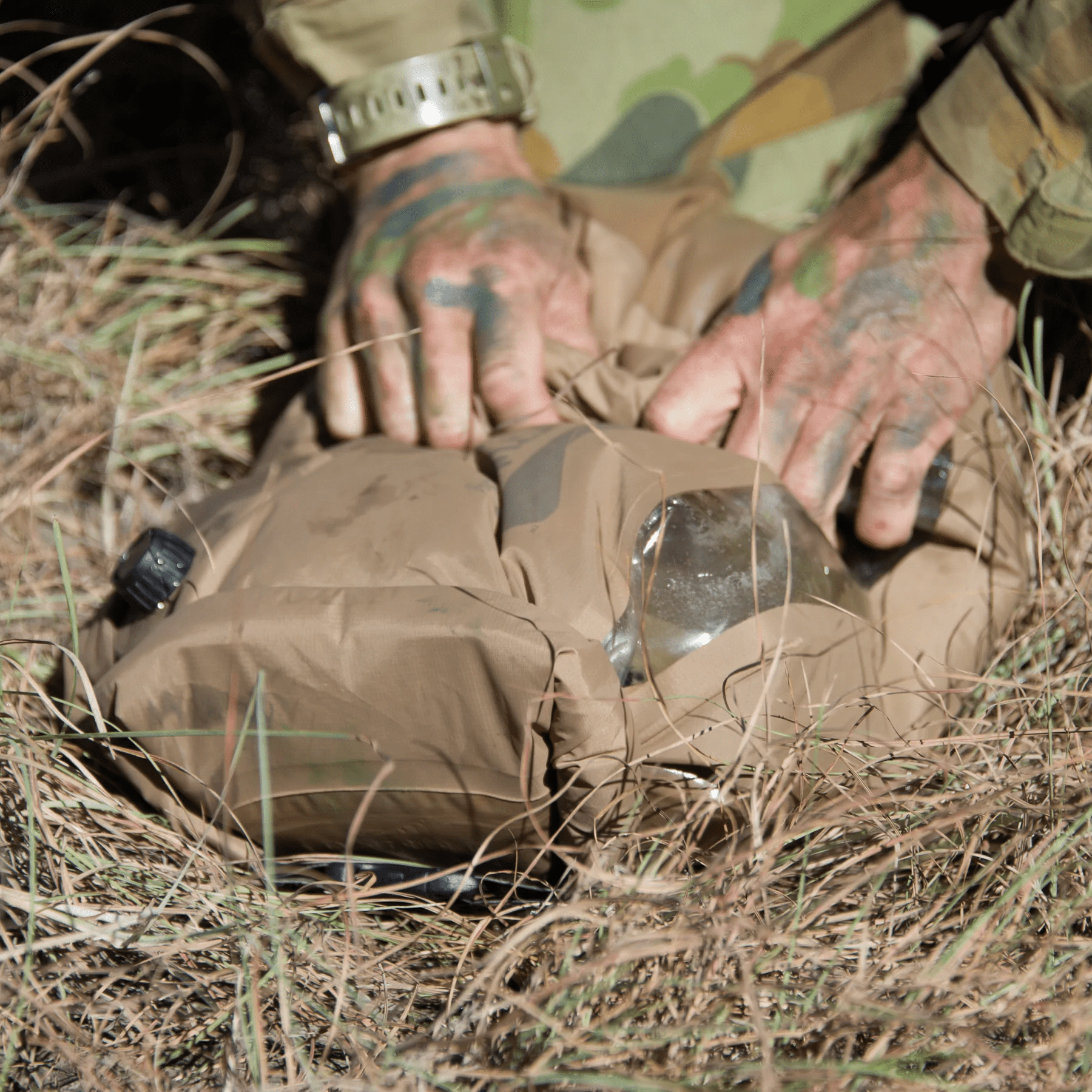 We initially had some concerns about the air valve, but after messing around with it through several wash cycles, our worries were satisfied. It's a sturdy plastic cap with a solid seal that can withstand heavy use.
With regular use in the kind of settings the Scrubba is intended for you can expect it to last through hundreds of wash cycles without showing a scratch.
How Much Can You Wash in the Scrubba?
The Scrubba is highly effective, but it's still relatively small. It measures just 21.3 inches by 12.6 inches when laid out flat, and you lose some of that space when you roll and compress it.
In our testing, we could fit just under two days worth of clothing for one person in each go. Two shirts, two pairs of socks, and two pairs of underwear were about the max we'd want to wash per load.
That's not a lot of clothing, but considering it only takes 30 seconds to three minutes to wash a load, you can power through a week's laundry in just 15-20 minutes no problem. Remember that larger or bulkier items, like jeans, sweaters, etc, mean more loads.
Who is the Scrubba For? 
The Scrubba was designed with minimalist travelers and digital nomads in mind. Anyone who frequently finds themselves living out of a suitcase, particularly those trying to reduce the clothes they travel with, can benefit from a Scrubba.
Another massive benefit of the Scrubba even for those living in traditional homes or apartments is how little water it uses. A single load in a regular washing machine uses about 19 gallons of water, with even the highest-rated high-efficiency washers using 7-8 gallons.
By comparison, the Scrubba uses just 2-4 liters per load. Even assuming you do 5-6 loads for a week's laundry, you're still looking at a significant water saving.
Others who can benefit from a Scrubba include:
Through hikers
Backpackers
Trail runners
Those traveling on a budget
Travelers to remote areas without laundry facilities
Those looking to conserve water
Those same benefits, compact travel size, ease of use, and effectiveness, make the Scrubba an excellent laundry choice for van dwellers, RVers, and tiny home enthusiasts without washing machines. 
Is the Scrubba Worth It?
The Scrubba isn't cheap by any means, but we definitely don't think it's overpriced. High-quality dry bags require reliable materials and careful manufacture, so it makes sense that the Scrubba would need to at least match that level of attention to detail and material quality.
The critical question of whether the Scrubba is worth it comes down to its effectiveness and your needs. We've established that the Scrubba is almost shockingly effective for its simplicity and size, so determining if the Scrubba is worth the initial investment depends on how you see yourself using it.
For those living in RVs, vans, or other minimalist settings, the Scrubba can be a real game changer. Instead of taking your clothes to laundromats or struggling to get them cleaned in a sink, you can effectively and efficiently clean them in your Scrubba.
Given the average price of a load of laundry at a laundromat, the Scrubba will pay for itself in fewer than 20 loads of laundry. 
That's a speedy breakeven point indeed. For those looking to go way off the beaten path, the Scrubba can be the difference between poorly cleaned clothes and squeaky clean ones.
If you're someone looking to avoid laundromats or up your hand-washing game, the Scrubba Wash Bag is 100% worth it.
Scrubba Options
The original Scrubba Wash Bag has since been joined by a range of color, size, and format choices. You can not only get the OG Scrubba in Green, Tactical Brown, and Black, but also pick up a Scrubba Mini or even Scrubba Backpack.
Final Thoughts
The Scrubba Wash Bag is a lightweight, durable, and highly effective laundry solution for van dwellers, RVers, and anyone who frequently finds themselves without a washing machine. Despite its tiny size, the Scrubba's unique design features and robust commitment to quality manufacture make it a potent tool in the fight against dirty laundry.
We highly recommend it to digital nomads, backpackers, tiny home dwellers, and anyone looking to keep their clothes at their best.