There are times when all of us fantasize about buying an RV, loading it up with loved ones and pups, and hitting the open road. While traveling full time is every bit the adventure you think it is, there are also plenty of practical considerations and needs that you still have to manage.
With that in mind, we put together a list of essential gear that anyone considering full-time RV living or the tiny life should consider.
Kitchen, Living, and Bathroom Gear
If there's one thing I hate with a passion, it's single-use plastics. There are few things worse than being forced to use something one time, knowing that it will sit in a landfill for decades or centuries after I'm done with it.
Thankfully, there are now plenty of sustainable alternatives to kitchen essentials, one of my very favorite being reusable zip-top bags. They offer a long-lasting and easy to clean alternative to your mom's disposable zip-tops and even save you money over the long term.
My favorite reusable zip-tops are from a small company called Russbe. Unlike many of their competitors, including the Insta darling Stasher bags, they don't try to reinvent the wheel.
Where many reusable zip-tops fundamentally change what the bags are and are made from, Russbe went a different path and made regular, easily recognizable zip-top bags out of more sustainable and durable materials.
Russbe bags are quite literally just slightly thicker and easy-to-wash zip-top bags that you don't have to throw away after one use. The seal works just as well as quality zip-tops we're all familiar with, and they even fold up just as small as disposable zip-tops.
They're also a lot more affordable than some of the more radical reusable zip-tops I've seen and used.
Travel Laundry Bag
One thing about life on the road is that you always need to be on the lookout for a good place to do your laundry. You can hand wash your clothes, or bring along a delightful device like the aptly named Wonder Wash, but in many cases, it's faster, easier, and less space-consuming to just use a local laundromat.
For that, you need a good laundry bag that makes it easy to take your laundry from your RV or tiny home into the laundromat.
I prefer laundry bags that can double as a hamper within your home, but you can also go with something like a mesh laundry bag. This kind of item is where Amazon is very much your friend. There are tons of inexpensive and virtually identical plastic, canvas, and mesh laundry bags available to choose from.
I recommend you pick out one sized to fit your needs and find a pattern and style that appeals to you.
Let's face it, it's a lot easier for guys to relieve themselves when outdoors than it is for ladies. One of the most intuitive and essential items to add to your gear loadout is a female urination device, such as the Go Girl.
A favorite among thru-hikers and other outdoorswomen, the Go Girl makes it much faster and easier to go when outdoors. They're inexpensive, easy to clean, and downright tiny when stowed in the sealed tube they come in.
For all the women out there living the RV and tiny life, having a Go Girl on hand can be a real lifesaver.
Fun, Tech, and Living
Finding a signal while boondocking or at remote campsites can be a challenge. We're used to constant cell service everywhere, but that isn't always the case when you're deep in a national forest.
A cell phone signal booster is pretty self-explanatory. It boosts the strength of cell phone signals from cell towers to your phone and other receiving devices.
A signal booster is a must-have if you're planning to work remotely while on your RV or tiny journey. They're pricey, but they pay off in spades in terms of flexibility in where and when you can camp and spend more extended periods.
WeBoost is pretty much the gold standard in portable cell signal boosters. For most people, the WeBoost Drive X will fulfil your needs quite well.
It's compatible with all U.S. carriers and can boost 5G signals for maximum browsing speed. Even better, it doesn't require permanent wiring. You can plug it into an AC or DC outlet and deploy the antenna when needed.
Another handy bit of kit I recommend is a WiFi booster. Similar to a cell booster, it improves the strength and connectivity of WiFi signals.
If you plan to spend a significant amount of time on campgrounds or if you're sharing WiFi with your host while living on private land, a booster makes it much easier to get a strong connection without requiring you to move around so much to find the perfect spot.
I recommend the Alfa Network CampPro 2v2. It's got the most intuitive installation and setup of the boosters I've tried before and does an excellent job boosting network strength.
While it doesn't require permanent wiring, you will have to install an antenna on the roof of your RV or tiny home and connect it to the desktop unit. Other than that though, it's a straightforward and easy-to-use solution.
Portable Speaker
Nothing makes a beautiful natural view or a night around an open fire more enjoyable than your favorite music in the background. Some RVs come with a speaker system hardwired in, but if yours doesn't or if you're looking for something a little easier to take with you, a portable Bluetooth speaker is the way to go.
They're inexpensive, lightweight, can reach surprising amounts of volumes, and are high in quality. They offer hours of music or podcasts on a single charge. Given you'll likely spend a lot of time in the outdoors while living the RV or tiny life it's a good idea to get one that's durable, water-resistant, and capable of handling some bumps and knocks.
A great place to start is the Tribit Stormbox. It's lightweight, sturdy and IP67 certified, yet affordable and highly portable. It offers shockingly good sound quality for its price point and even comes with a nifty strap that allows you to attach it to backpacks, bike handlebars, and all sorts of other handy places.
If you want to up your musical game a bit or are someone who likes to throw a party, an upgrade pick is the JBL Xtreme 3. It's significantly more expensive than the Tribit but offers both more volume and noticeably better sound quality. You can rest easy when using it outside your home, too, as it's got the same IP67 rating and an exemplary durability record.
Bicycle
One of the extras I most recommend to your RV or tiny home is a quality bike (or two). Bikes are great fun for recreation, going further on trails, and generally getting around without having to move your home.
I can't tell you how many times having a decent bike has saved me time and effort while at campsites. You can hop on and pedal to the nearest store for essentials or head over to a fun restaurant without finding a parking space for a large vehicle.
Bikes also serve an extra purpose as a great way to get your exercise in while traveling. You'd be surprised how many places there are out there where a quality paved trail is available. They make great places to bike along for a few miles at a time to get your heart rate up while exploring the local area.
Unless you're looking to do some serious road cycling or hardcore mountain biking, a hybrid bike is the way to go. They're lighter and have a better seating angle than a mountain bike but has tougher tires and flat handlebars for a more comfortable riding position than a road bike.
For those just looking for a good way to get around, check out your local thrift store. They often have plenty of bikes in decent shape for a reasonable price or at least bikes that can be rehabbed cheaply.
The Hiland Hybrid Bike is a solid entry-level pick for those looking to buy new. It's pretty basic but comes with a Shimano drivetrain and is 85% pre-assembled. For an upgraded pick, the REI CTY 1.1 offers just about the best bang for your buck you can find on a hybrid bike.
It has an improved 24 gear drivetrain, Shimano parts, and mechanical disc brakes, plus the ability to add all kinds of bags, mounts, fenders, and other accessories. It's also a seriously good-looking bike, available in a gorgeous Nightsea or Pitch Black.
If you're willing to spend a bit more, an E-bike is an even better way to travel further distances faster. I'm a big fan of the Rad Power Rad Mission. It's not the cheapest E-bike out there, but it offers excellent quality for your money and has plenty of power and range.
Water, Power, and Utilities.
CO Detector and Fire Extinguisher
It's impossible to overstate how important adding a Carbon Monoxide detector and a highly-effective fire extinguisher to your RV or tiny house is. Carbon Monoxide is odorless and potentially deadly.
Given that many of the best tiny house appliances are natural gas or propane powered, it's essential that you incorporate at least one and preferably two CO detectors into your home. You can pick up a two pack of high quality First Alert CO Monitors for a very affordable price. Please do so.
Another essential piece of safety equipment is a working fire extinguisher. While you certainly shouldn't risk your life trying to fight an out-of-control blaze, having the ability to extinguish a small cooking fire or other ignition source is really, really important.
They also come in handy if you like to build campfires (Like I do) as you can be sure that nothing happens in drier environments. There are plenty to choose from, but I recommend you pick up one that's lightweight and stowable.
The best fire extinguisher for RVs or tiny homes is the First Alert AF400 EZ Fire Spray. They're small cans about the size of a cooking oil spray that nonetheless offers up to 32 seconds of firefighting spray.
They're also small enough and affordable enough that you can pick up several to keep in strategic places throughout your home.
Jack Pad
Many RVs and tiny homes include built-in levelling jacks for campsites that aren't quite flat and comfy. They allow you to get your home flat, level, and fully set up for a comfortable night's sleep in minutes without any guesswork.
One problem for new RVers or tiny lifers is how to level your home when the ground is soft or otherwise won't support your jack. Enter the jack pad, an often overlooked tool for first-timers that makes levelling your home far more manageable and safer.
Jack pads help distribute the weight of the small jack contact point across a larger area. They allow you to jack up your RV or tiny home safely and efficiently in various conditions and make it much easier than finding a solid patch of earth to place the jacks.
I recommend the RoadWarrior Heavy Duty Jack Pad. They're 15" across and 1.5" thick and offer one of the easiest and most durable ways to protect your RV jack. The pads themselves are made from a solid block of polymer and last a lot longer than some of the other jack pads we've tested.
Leveling Blocks
Don't have leveling jacks on your RV or tiny home but still want to sleep in a level bed you won't roll out of in the night? Leveling blocks are the easy-to-use solution that allows you to effectively and safely level your home for a comfortable experience.
They go directly under the wheels of your home and help you raise the lower end to match the upper point. Different versions are available, but most you'll see are either interlocking or ramp style.
Interlocking blocks are basically like giant Lego bricks and require you to know how much you want to lift your RV before you roll onto them. They're great if you're going to be somewhere for a longer-term stay but require more initial setup. If you want to go with an interlocking leveling block set I recommend the CamCo FasTen 4X2 Leveling Blocks.
They're durable, pack into an easy-to-stow block, and come from a respected name in RV and outdoor living products.
Ramp-style blocks are rapidly becoming the most popular type of RV and tiny home leveling blocks due to their ease of use. Basically rugged pieces of rounded polymer ramp-style blocks allow you to drive or tow your home onto the block until you reach level. They allow for finer tune adjustments than do interlocking blocks and are generally easier for most to use.
Once you've found the right spot, you secure the ramp by chocking an included block beneath them to lock everything into place. If you're planning to move around more and want to be able to quickly set up your home, ramp-style leveling blocks are the way to go.
I recommend Beech Lane Camper Levellers. They're affordable, durable, and reliable. A set is rated for 35,000 lbs, plenty for virtually any tiny home and most RVs, so you won't have any trouble leveling your home with them.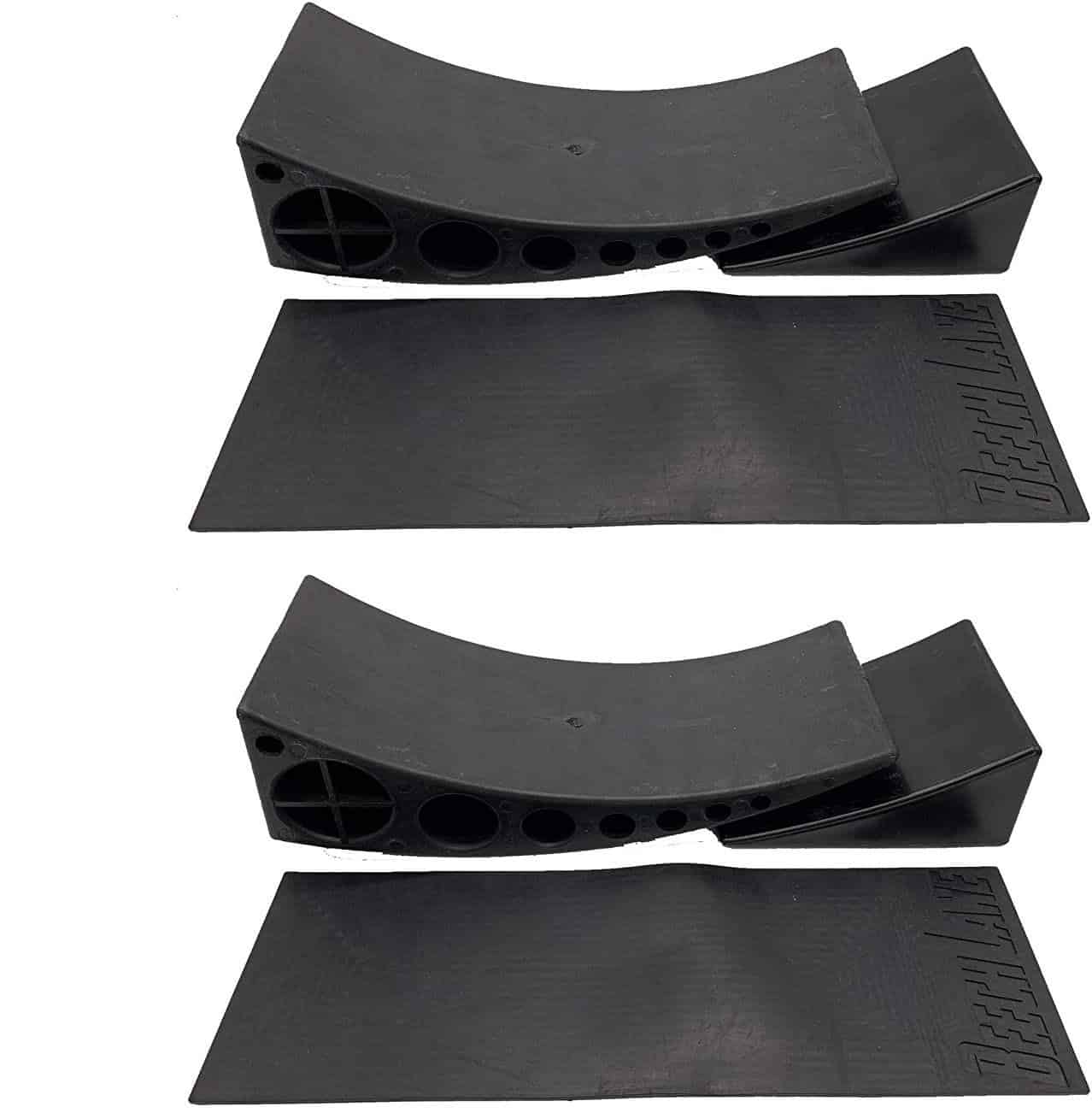 Water Filters
Campsites don't always have the highest quality water available, so an effective water filter and a backup are essential for your gear. You should go with an inline water filter as your primary filter, plus one or more lightweight hiking filters for backup.
They connect directly to your RV or tiny home's freshwater hose and filter every drop of water before it ever enters your tanks or water system. These generally aren't rated to protect against bacterial, protozoan, or viral threats and so can only be hooked up to potable water. Still, they do a great job of removing sediment and other possible contaminants from an old water system and leaky pipes.
I recommend the USA Adventure Gear Inline RV and Marine Water Filter for that purpose. It's noticeably more expensive than most RV filters on the market but it uses a higher quality filter media and is rated for 25,000 gallons per filter. In contrast, most cheaper filters only last up to 5,000 gallons.
Sometimes, though, you can't be sure of the safety of the water available to you. In those times, it's essential to have a backup filter that can reliably protect against bacterial and protozoan threats.

I recommend the HydroBlu Versa Flow as your backup. It's a squeeze-style filter that weighs barely 2 oz, yet is rated to filter up to 100,000 gallons of water. To use it all you have to do is fill the included pouch and squeeze the water through the filter.
It lets you fill up bottles, pans, and any other containers you need to fill quickly, efficiently, and with minimum hassle. If you're planning to do any backcountry camping or other 'off the beaten path activities, you should probably grab a few of these just to be safe. Given that they cost barely $20, it's worth it.
Surge Protector
While an everyday surge protector/power strip is also a great item to add to your home, for our purposes here I'm talking about a heavy-duty RV surge protector for hooking your home up to shore power. They're available in 30 amp and 50 amp versions and help protect your home's sensitive electronics from power fluctuations from campsite power.
Many long-time RVers will tell you that a surge protector isn't needed, that they've hooked in for years without any issues, and they might be right. They got lucky.
There are plenty of examples of expensive electronics being seriously damaged from wild fluctuations in voltage, amperage, or a sudden surge of power. A surge protector, also known as an Electrical Management System (EMS), is a cheap way to protect potentially thousands of dollars worth of electronics.
Considering you probably dropped a significant chunk of change on your electrical system, you should pick up a full EMS rather than a basic surge protector. They offer far more protection than do standard surge protectors and against a more extensive range of electrical threats.
I recommend the Progressive Industries PT30X for 30 amp hookups or the PT50X for 50 amp hookups. They're well-made, offer exceptional protection, and are built to last for the long haul.
Final Thoughts
There are plenty more helpful, time-saving, and downright delightful bits and bobs of gear you can add to your RV or tiny home, but these are the ones we think are the most essential to have a successful and safe trip. Whatever your progress is along with the RV or Tiny life journey, we hope you found our recommendations helpful.
There are times when all of us fantasize about buying an RV, loading it up with loved ones and pups, and hitting the open road. While traveling full time is every bit the adventure you think it is, there are also plenty of practical considerations and needs that you still have to manage.
With that in mind, we put together a list of essential gear that anyone considering full-time RV living or the tiny life should consider.