Buying the tiny home of your dreams is just the first step in your tiny journey.
Once you've got the home, and preferably before you get it, you have to figure out where you're going to live. Not everyone has friends or family with an empty pasture to park it in after all.
As the tiny movement grows in popularity, developers and tiny living entrepreneurs have begun to respond. There are now lots of adorable tiny house communities all across the world.
Here's a guide to picking out the perfect tiny home community for your needs and a list of ten amazing tiny communities.
What to Look for in a Great Tiny Home Community
You really shouldn't build or buy a tiny home until you know where you're going to put it. Tiny homes on wheels are portable but they aren't exactly the easiest things to move around, especially if you aren't used to driving a large trailer.
Spend a bit of time considering what kind of lifestyle you plan to live. If a tiny home community seems like the best option for you make sure you take the following points into account.
Hookups and amenities
Many current tiny home villages are set up a lot like RV parks. You pay monthly rent on a spot to park your tiny home with hookups. These usually include power, water, internet, and sometimes things like a black/gray water connections.
What kind of hookups you need depends on how your tiny home was built. If you designed it from the ground up as an off grid super home you really just need a place to park. Paying for full hookups you won't be using doesn't make much sense.
You should also look at the amenities they provide. Most will have community events, bbq's, and other ways to get to know your neighbor. Some even offer things like walking trails, pools, or other traditional neighborhood touches.
Local Laws
This one has to be covered. Many counties and municipalities don't allow tiny homes under their current zoning rules. When you're looking at a potential community make sure and ask questions like:
What kind of permitting is required?
Are tiny homes here as RV's or are they permanent dwellings?
Has this community been cleared with local code enforcement?
Lots of people get around this or just outright ignore it, but if you're looking for a true tiny home community it needs to be 100% legal.
Renting vs. Buying vs. Parking
Many tiny home communities offer a mix of rental spaces, rental tiny homes, or tiny homes for sale. You've probably seen tiny homes on vacation sites like AirBnB or VRBO.com before.
One option I highly recommend is spending a few nights through a company called Getaway.House where you can try out a tiny house vacation in the woods for a few nights with some absolutely stunning nature locations.
A lot of them are located in burgeoning tiny communities all across the country.
If you're interested in going tiny but aren't 100% sure, renting a tiny home is a great way to find out. You can spend a week there on vacation or rent a tiny home just like an apartment.
 If you find you absolutely love it, you may even be able to buy a tiny home already sited in the community.
For tiny dwellers already in their homes, a tiny community with parking is your best bet.
They charge monthly rent for a spot to park your tiny home. Since most modern tiny homes on wheels need to be leveled for maximum comfort, this kind of semi-permanent spot is a great option.
Permanent Tiny Homes vs. Tiny Home Parking
Another big choice to make when considering tiny home communities is what type they are. Most currently allow parking for tiny homes on wheels, but a new generation of tiny communities is being built with permanent homes.
A lot of folks really interested in tiny homes were turned off by the thought of searching for parking. Permanent tiny communities give you all the savings and environmental benefits of tiny living without most of the headaches.
These are traditional foundation built homes sized for the tiny dweller. They're built up to code by professional contractors and have all the amenities the modern homeowner could desire.
Even better, many of these permanent communities are sited near some of the hottest cities in the world. New ones are being planned even as we speak.
Long known as a skiers paradise, Breckinridge, CO is now home to a beautiful mountain community of cabins, tiny homes, and RVs. Located just a short drive away from the slopes in Fairplay, the Whispering Aspen Village is mix of vacation homes and permanent residents.
They offer spectacular views and full hookups for your tiny home on wheels. The lots are available for purchase with a small monthly maintenance fee. They were going for just over $30,000 new.
If your idea of an idyllic life is hiking, camping, and winter sports in the Colorado Rockies, you should definitely consider Whispering Aspen Village.
Little River Escape is a tiny home and RV community built for those who want to escape from the hustle and bustle of urban life. It's located atop Lookout Mountain right near the border of Alabama and Georgia.
It has dozens of tiny homes, RVs, and cabin sites available with many already sold and being lived on. Nature is all around you at Little River Escape.
There's world class hiking, camping, and river access right out your back door. You can get to famous sites, like the Appalachian Trail and Cloudland State Park.
 The community itself offers excellent amenities. There's a pool, 24 hr fitness center, clubhouse, pool, and numerous other available activities. You can lease a lot annually or on a monthly basis. Rates start around $400.
If you've ever wondered what life as a cowboy would be like, the town of Spur, TX is a great place to find out. It's a small town located in Dickens county, Texas, that declared itself open to all tiny 'pioneers' who wanted to come out west.
They currently have almost a dozen tiny homes built with many more tiny lots already sold. Spur doesn't allow tiny homes on wheels, requiring every tiny home within city limits to be either stick built or manufactured, on a concrete foundation, and have a fully working toilet connected to the sewer.
For that though, you get a remote tiny slice of heaven in beautiful west Texas.
4. Luxtiny – Lakeside, AZ
Luxtiny is billed as Arizona's first tiny community. They offer built-to-order tiny homes placed in the beautiful White Mountains.
There are 41 lots for you to park your tiny house on wheels with full hookups. They've already filled up their first phase development, but are working hard on a second phase. Lots are available for a monthly lease of $300-$400, and they offer tons of green-friendly and off-grid options.
Their bylaws allow greenhouses, chicken coops, solar panels, and off-grid toilet options, like composting toilets. If you're looking for a way to go off-grid and reduce your carbon footprint while still enjoying a community of friendly people, Luxtiny may be the place for you.
Built in the 1950's as a manufactured home park, Orlando Lakefront has rebranded itself as one of the premier tiny communities in the Southeast. It's located just minutes from downtown Orlando and offers some of the best amenities of any tiny house community we've seen.
The park has excellent internet access, water, power, and sewer connections, as well as a range of amenities. There are fishing docks, pet friendly walking trails, and full laundry facilities.
The proximity to the world class entertainment and employment opportunities of Orlando itself are honestly probably its greatest amenity.
Rates are incredibly reasonable given its location and extensive list of amenities. Word to the wise though, its wait list for a spot is equally extensive.
Many enter the tiny house movement out of a desire to get in touch with nature. There's no better place to do that than in the wilderness cathedral that is Sequoia National Park.
Lemon Cove Village is a tiny friendly RV park and community that has short and long term spots available. They're located just a 25 mile drive from Sequoia and Kings Canyon National Parks.
They offer a pool, high speed internet access, community events, laundry facilities and so much more. They're even a stop on the Sequoia Shuttle, the seasonal shuttle service to Sequoia National Park.
For midwesterners and those not afraid of a little winter chill, the Sanctuary Minnesota offers affordable spaces for tiny houses on wheels. They offer 6 spaces for a monthly rental fee of $350-$450.
The Sanctuary was conceived of as an escape from the outside world. As such, they don't allow children or pets other than indoor cats. This might turn some people off, but the beautiful scenery, serene sounds of nature, and lakefront views definitely draw in others.
 They offer all kinds of yoga, wellness, and other community events to help you get to know your neighbor and make new friends.
If owning a home has always seemed like a distant dream to you, tiny house Detroit may be the solution. It's a community of permanent tiny homes built to help revitalize the city of Detroit by providing affordable urban housing to low income individuals.
It's made up of 25 homes between 250-400 sf each. They'll all be on 30 x 100 foot lots and include a front or back porch to add more usable space. These houses help college students, formerly houseless people, and others finally have a home of their own.
They're available to rent with the option to purchase outright after seven years of continuous residence.
Located just over an hour away from the bustling metropolises of Cincinnati, Columbus, and Indianapolis, the Cedar Springs Tiny Village is a lakefront tiny development with character. It was built to combine the best features of tiny living with modern conveniences. Cedar Springs was a joint venture between Modern Tiny Living and Gerald Brubaker. It offers beautiful lakefront views with all the amenities you could desire.
Explore sprawling walking trails with your dog, tend the community garden or sit and relax under the mature cedar trees.
Currently Cedar Springs only allows tiny homes on wheels built by Modern Tiny Living. They charge around $400-$500 per month in rent and offer full hookups.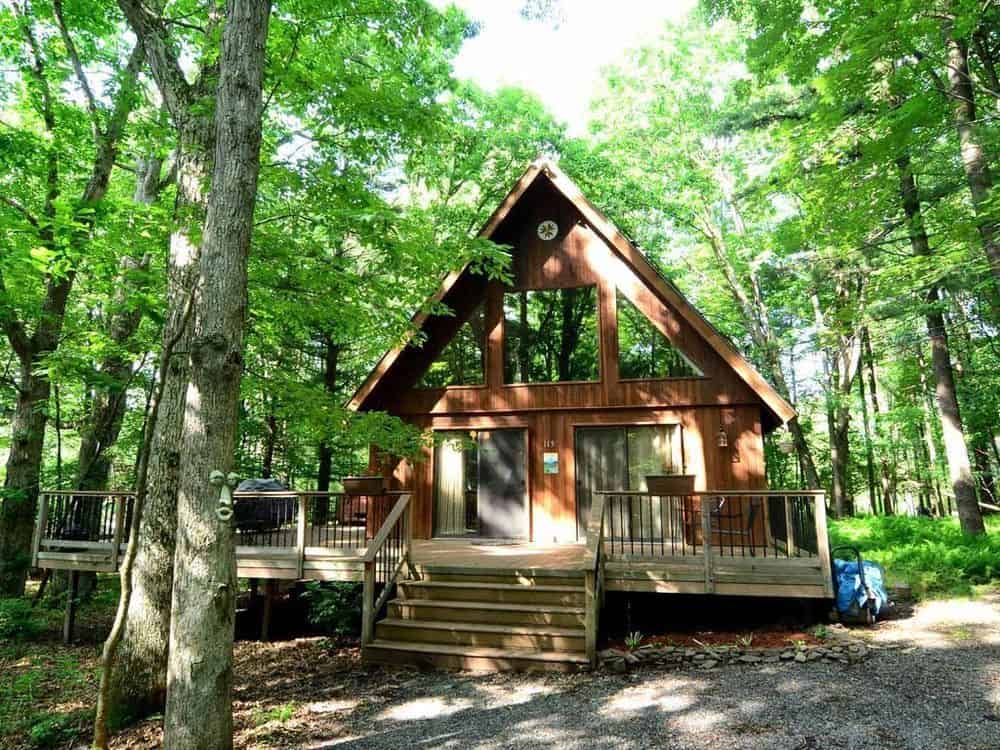 Lake Walk Community offers 43 sites with beautiful views of lake Cunningham. You can rent a lot for your own tiny home on wheels or lease/buy one of theirs.
There are walking trails, fire pits, and beautiful mountain scenery throughout the community. They have a communal garden and a community center so you can meet and interact with your tiny neighbors.
Rent starts at $450 per month with a 6 month minimum. Their homes available for sale usually go for between $70,000 and $80,000 depending on the package you select.
Tiny House Block is a dedicated tiny house village located in scenic Mount Laguna, CA. It's about an hour's drive from San Diego and is perched 6,000 feet up in the Laguna Mountains with stunning panoramic views.
The good people at Tiny House Block allow you to park your tiny home on their lots or lease one of their tiny homes short or long term. You can even try out the tiny life with a vacation rental of one of the adorable tiny homes.
One thing we really loved about Tiny House Block is their commitment to building a true tiny community. They have strict limits on the number of tiny homes that can be used as short term rentals and do everything they can to encourage a sense of community and friendship with their dwellers.
Escalante Village is a riverfront tiny home community located just a 15 minute bike ride to scenic Durango, CO. It offers full services and a vast range of nearby outdoor recreation possibilities.
Escalante offers 24 tiny home spaces, with six spaces used for tiny home rentals, and includes everything you'd need to set up your tiny home and truly live the tiny life. It's less than an hour away from world-class ski slopes and winter sports areas and offers year round access to trails, rivers, mountains, and everything in between.
Colorado is one of the friendliest states in the country for tiny homes. There are numerous highly regarded tiny home builders there and people are excited about the tiny movement and the benefits of tiny living. Escalante Village is a great place to enjoy Colorado's natural beauty in your tiny home.
Lake Walk Community is a woodlands tiny home community located on the shores of Lake Cunningham, SC. It boasts 43 homes on a sprawling 15-acre complex with attractive amenities such as nature trails, community gardens, and of course access to the lake itself.
Lake Walk offers both tiny homes for sale and lots for rent for your own tiny home. Their own homes are all right about 400 square feet and offer excellent fixtures and designs. We're partial to the Seabreeze. 
It has a comfy kitchen and a delightful miniature staircase that makes getting up to the loft much easier. Tiny home lots are available for lease starting at $450 a month, and include water, power, sewer, and garbage pickup.
Tiny Tranquility is a purpose built tiny home and vintage RV community located in Waldport, OR. It's just a few miles from the shores of the Pacific and offers both long-term lots available for rent and nightly stays for those looking to try on the tiny life.
Tiny Tranquility focuses on creating an enduring sense of community among all its residents and includes a range of fantastic amenities. There's a 2,400 square foot lodge, a dog park, outdoor activity area, a fully equipped fitness center, and a gorgeous 12,000 square foot (that's right, twelve thousand) community greenhouse that grows fresh seasonal veggies year round.
The Lake Dallas Tiny Home Village is a community of more than a dozen tiny homes located in the heart of Lake Dallas, TX. Most tiny home communities we see are located out in nature, both for the natural beauty and to get away from often onerous city zoning requirements.
The Lake Dallas Tiny Home Village is fully zoned and permitted under Appendix Q of the International Residential Code. That means so long as your tiny home meets requirements, your space in the Village can legally be listed as your full-time residence.
That's huge. 
The Village has a range of amenities, including a laundry, garden, fire pits, and some delightful walking paths.
Bonus
Check out this website to find more Tiny House villages in your area: https://searchtinyhousevillages.com/
Just the Beginning
These are just a small sampling of the tiny communities springing up all across America and the world.
As more and more people look for ways to tread lightly across the world, tiny living is only growing in popularity.
Know of any other amazing tiny communities?
Let us know in the comments so we can help more good people find great places to live their best tiny life.