The Tiny Movement has grown rapidly over the last several years.
Gone are the days where a few pioneers and DIYers were the only ones with a tiny home.
Now you can find literally thousands of amazing and beautiful tiny homes posted all over social media.
I picked out 101 of my favorite tiny homes, van dwellings, Schoolies, and off-grid houses to help provide inspiration for your tiny dreams.
Erika's Tiny Map Home
One of the biggest benefits of THOWs is their ability to travel. For some people though, that just isn't enough.
Erika's tiny home incorporated a stylized map of the world right into the ceiling decor. It pairs beautifully with the simple aesthetic of her kitchen and living space.
Rustic Tiny Tree House 
If you're anything like I was as a kid you really wanted to live in a treehouse someday. Now you can finally get that chance with this rustic cabin style treehouse.
It's supported by a single large tree through the center and has all the basic living spaces you'd need for a comfortable stay.
Beautiful Tiny Barn Home 
Barn style roofs have a certain aesthetic to them that lots of people go wild for. This pure white barn style tiny home has all the comforts you could desire and a truly adorable appearance.
It offers ample living space plus a really nice outdoor seating area to relax in during the cooler parts of the day.
Winter Getaway
If you're all about the great outdoors in the winter, but want to avoid roughing too much, this is the cabin for you. It has a cozy little sleeping/living area with an open wall so you can enjoy watching the snowfall.
On the other end of the cabin is a partially covered porch area for relaxing during the day or getting ready to go out exploring.
Tiny A-Frame Retreat
A-frame cabins are the ultimate example of old school winter escapes. Everything about this home's design embodies a bygone time.
From the materials used to the design aesthetics, you'll feel like you've stepped back in time to the Klondike gold rush every time you walk through the door. 
Dark Forest Home 
This cozy forest tiny home has a char black finish on the natural wood siding and some really unique design choices. It has a gable style roof with excellent coverage for the porch seating area and an actual live tree growing up through it.
It's a great design for heavy snow loads and very cold temperatures, something it looks to deal with on a regular basis.
Little House on the Highway 
The Little House on the Highway is a retro-themed Skoolie fully fitted out for sustainable off-grid living. It has a solar power system, plentiful living and storage space, and a fun rooftop porch area/storage rack.
The paint job on it is just wild. A powder blue body with painted wood panels along the sides, evoking an old school station wagon out on a road trip.
Cozy Van Coffee 
#VanLife has exploded in popularity over the past few years, with more and more people choosing to hit the road and seek some adventure in their lives. Having a fully kitchen is one of the most important things for most campervan dwellers.
This gorgeous van build has a four-burner gas stove set into butcher block counter tops. It accents the light wood walls and shelves beautifully.
If you are thinking about how to build your own campervan but don't know where to start, check out our DIY Campervan Conversion guide.
Sustainable Finnish Solar Van
The #VanLife trend has spread far from the shores of the US. This Finnish van is rigged for off-grid living with a solar panel system and a pair of circulating fans.
This allows the residents to stay comfortable no matter what the temperature and still power all their devices.
Permanent Garden Bus
Most Skoolie dwellers focus on their ability to travel, but that doesn't mean you can't enjoy the stationary life… in a bus. This bus doesn't travel anymore, but it still offers a very comfortable and stylish living space.
The outside is accented by living plants while the interior has comfortable beds and full facilities.
Turtle Turkish Home
Turtle Homes is a Turkish tiny home builder with a focus on minimalism and modern touches. The Turtle Home above is a gorgeous example of their craft.
It uses light wood siding with ultra-modern details and tons of windows. It has a rooftop deck space and a pair of sleeping/storage lofts. It's great to see the tiny movement spread from it's US roots!
Bookworm's Cozy Winter Retreat 
A crackling wood fire and a comfortable place to sit are the highlights of this delightful little cabin. The living area is lined with books and has a very plush looking leather chair close to the wood stove.
It honestly looks like a warm and cozy space to while away many a winter afternoon with a good book and a hot mug of cider.
Relaxing A-Frame Ambiance 
With this spacious A-Frame, less really is more. A plush bed, a few well-placed decorations, and a pair of bedside tables provide everything needed for comfort without taking away from the natural beauty of the place.
The polished wood walls perfectly frame the bright green forest view you enjoy every morning when you wake up.
Twinkle Lit Cabin 
Natural light is always a blessing, but there's nothing wrong with a few twinkling lights to spice up your space. This one-room cabin fits everything cozily into place, from the window-mounted small wood stove to the sleeping loft above.
My own personal favorite is the clearly marked spot for the dog to enjoy the fire every day.
Wild Expandable Van
One of the biggest benefits of #vanlife is the ability to change your home scenery at will. With this highly customized van, you can take it to the next level.
It has multiple ways to open up the inside to the natural world just outside. What really wowed me though was the slide-out bed. It's one of those things you didn't know you needed until you really, really need it.
Little Red A-Frame
If you ever wondered what a little red riding hood themed cabin would look like you can stop wondering. This lovely little A-frame cabin has a bright red theme throughout the whole design.
Everything from the porch to the roof flashing, to the siding on the extension follows this theme. 
Wild Outdoors VanLife 
Vanlife opens up some interesting possibilities for those looking for an adventure and excitement. This van has clearly seen some things. It has racks, slots, and stowaway storage for every piece of outdoor gear and equipment you could imagine.
Thankfully it also has a very comfortable-looking extendable bed and ample space for all the other things you need to live comfortably.
Spiral Tiny Life
Rounded cabins have a certain look to them that always makes them come off as delightfully quaint. This lovely little cabin is no exception, with a stylized black spiral staircase just adding to the look of quirkiness.
It looks like exactly the kind of place a 19th century wood carver or sailing man might call home.
Rustic Cottage Murphy Bed
Space is always at a premium in a tiny home. This stylish tiny home used a variety of stowaway furniture, including a downstairs murphy bed, to help maximize the available living space.
Designs like this that allow tiny dwellers to effectively live their lives in such tiny spaces.
Naturally Nautical Van Life
This van was designed and built with the goal of exploring the beaches of Europe as inexpensively and sustainably as possible. It has a rustic style to the wood paneling and furniture and incorporates natural elements like plant garlands to add a touch of color.
Dropdown curtains block out light when sleeping and roll right back up to provide a huge field of view.
Camp Wandawega Forever Tree
If there's such a thing as a world-famous treehouse, this is it. The inspiration for this gorgeous treehouse comes from the picture book "The Forever Tree," and it was constructed to help support a specific tree at Camp Wandawega.
The interior has a backcountry style to it, a comfortable ladder to access the sleeping loft, and a chandelier made from antlers.
Little Eggplant House
This adorable tiny house was the brainchild of Aubergine Tiny Homes. For those who don't know an Aubergine is, it is another word for eggplant. 
It's painted a bright eggplant purple and positively covered with windows on every side and surface.
Modern Elegance Tiny Living
This is a great example of modern styles done right in a tiny home. Rich browns contrast bright whites with textured accents frequently on display.
Mid Century Modern furniture fits in perfectly with rope stays and supports, while canned lighting provides bright, but gentle light.
Teeny Tiny Kitchen 
The kitchen is the beating heart of a good home. Tiny homes are no exception to this rule, and this teeny kitchen exemplifies what a good tiny house kitchen should be. 
It has a custom Bluestar Cooking range and oven designed just for tiny dwellers, as well as elegant storage solutions for pots, pans, spices, and foodstuffs.
Hewing Haus Deep Woods Luxury 
Hewing Haus provides luxurious, yet sustainable, off-grid dwellings for those who want to live in the backcountry in style. They have a boxy shape and include everything you need for off-grid solar and water.
They're designed to quickly set up just about anywhere and include a really nice outdoor porch to relax on.
Sweet Dream Reverse Loft 
The general shape and layout of a tiny house have been pretty well established at this point. You've got your living area, kitchen, and bathroom on the ground floor with either one or two lofts above.
The Sweet Dream by Incredible Tiny Homes flips the script and places the sleeping space below the living area loft. It has about the same head clearance in the sleeping area as it would with the loft, leading to a pretty cozy little place to catch some zzz's.
One With Nature Yurt
Yurts as a living space have always seemed to be closer to nature than other homes. This particular yurt really exemplifies this connection.
It has an elegantly rough aesthetic with numerous live plants throughout the home to encourage growth and happiness. The central skylight let's natural light pour in during the day, further increasing the feeling of space.
Super Minimalist Hammock House 
For those looking to go as tiny as possible, this rustic little cabin may be the answer. It's made from natural materials and has space for a floor bed or the perfect distance to hang a hammock.
The beams and interior walls are made from rough-hewn logs and natural reeds. Overall it gives it a very cool look and a very comfortable feel.
Loaded-for-Adventure Van
Many van dwellers take up the life to more effectively pursue their outdoor passions. This blacked-out Sprinter is outfitted from the tires up to be the perfect adventure vehicle.
It has racks, straps, and mounts for a variety of outdoor gear plus all the extra features to get you in and out of the backcountry safely.
Outside Looking In
Experiencing the wonders of the natural world from the comfort of your own home is a big part of going tiny. This tiny home has a massive picture window just over the bed that lets you see everything that's happening outside.
It goes really well with the natural wood siding and cozy sleeping space hidden away inside.
Warm and Cozy
There's nothing quite as cozy as staring out into the teeth of a raging snowstorm from the warmth and comfort of your own bed. This yurt-style dwelling gives you a clear view of the natural wonders while keeping you nice and comfy.
One whole side of the cone-shaped roof is replaced with windows for the perfect view from your bed.
Little Island Life
While not exactly a tiny house, this Ukrainian fisherman's cottage is just too cute to pass up. It sits on a tiny little bit of an island with a plank bridge leading out to the front door.
It's surrounded on three sides by trees that can be festively covered with glowing twinkle lights. All in all, it's a very cool place that offers a lot of inspiration for modern tiny dwellers.
Wide Open Caravan 
An homage to the classic caravans of a bygone age, this affordable Aussie tiny house offers a comfortable sleeping arrangement with a really cool aesthetic. It has a pair of canvas covers that roll up along the sides to allow you a wide view of your surroundings.
Modern Mountain Man Cabin 
The mountain men braved the harshest terrain of a vast continent and helped blaze a trail for settlers. Their cabins were bare-bones, this successor is similarly without frills, but were made using the most modern materials.
Composite panels make up the body and roof of the house while a laddered-loft space offers an additional sleeping area.
Cal Truck Mobile House
The Cal Truck is a Japanese truck home designed to resemble a rustic cabin. A wooden cabin body was fitted into the back of a truck to explore the wild beauty of Japan.
It doesn't offer the full amenities of a tiny home, but it's perfect for those willing to rough it a little.
Rustic Relaxation
When you lack the space for a proper tub, but don't want to give up your nightly soak, it's time to get creative. This Texas couple used a circular horse trough that they DIYed into a delightful soaking tub/shower combo.
The Frac House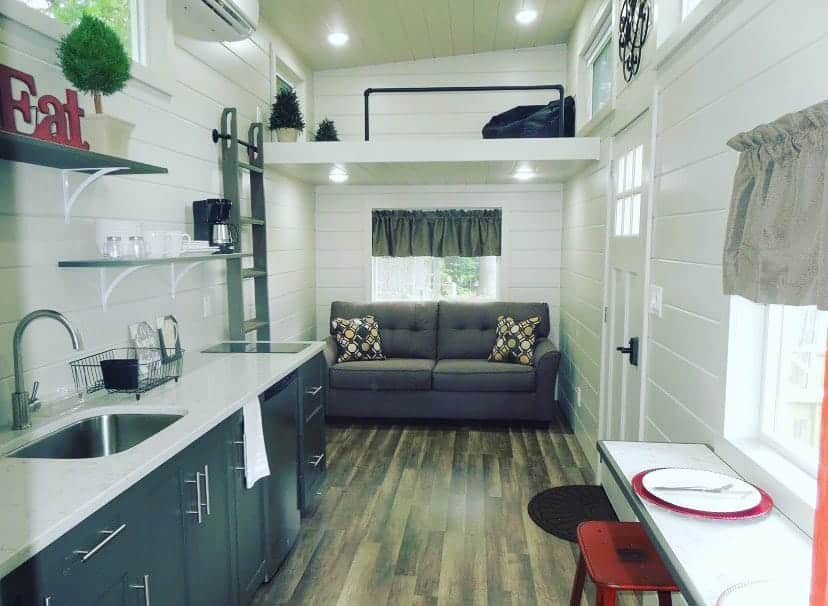 Clean lines and a simple color palette are the hallmarks of the Frac House. It includes a pair of queen-size sleeping lofts accessible by ladder and a perfectly-placed kitchen bar for enjoying a meal.
Salomons Chamber Getaway House 
There are few tiny homes I come across these days with a truly original design. The Salomons Chamber House is one of these. It has a unique style that combines geometric-patterned trim with interesting door designs.
The roof is slightly slanted and has a row of windows to allow in as much natural light as possible.
The No-Fuss Buss
The No-Fuss Buss is an off-grid adventurer's dream machine. A converted short bus, it's loaded down with dirt bikes, mountain bikes, a full solar power system, and all the comforts of home.
It offers ample storage space for hiking gear, camping supplies, and anything else you might need on your travels. 
Swords to Plowshares 
The name's a bit much, but it fits this 1953 Renault. A former military ambulance, it's since been converted into an off-the-grid adventure machine with comfortable sleeping space and enough storage for all the outdoor gear you could need. 
An impressive ground clearance, plus space for spare tires and plenty of tools, make it ready to head off deep into the backcountry.
From Lookout to Life 
Located deep in the forests of Northern Idaho, this former fire lookout station now provides a 360-degree view of all that natural wonder. It's a single-room cabin suspended high up above the tree cover with all the comforts of home.
It has a comfy bed, wood heater, and a delightfully rustic outhouse located down below.
Winebox Explosion of Colors 
Located in the hills of Valparaiso, Chile, the Winebox is a container-built hotel and urban winery. It pushes the limits of container design by creating a multi-level container structure designed for human occupancy.
The exterior is a riot of bright colors, murals, and street art. It provides a bold statement about the possibilities for container homes.
Multilevel Tree Fort
Why spend your time on a simple treehouse when you could be enjoying a tree palace. This elegant treehouse has two floors with a stylish spiral staircase leading up from ground level.
It offers a pair of porches plus ground level storage space.
Mint Green Cozy Kitchen 
This kitchen incorporates space-saving measures to help maximize storage while still presenting an elegant look. It has a mint-green backsplash that pairs well with a Big Berkey water filter and other appliances.
Nature Abounds Bedroom 
The bedroom of this yurt home is truly a marvel of sustainability and natural connectivity. The bed is placed just beneath the skylight with a ring of vibrant growing plants around it.
It allows you to sleep close to nature, with the air around you constantly refreshed and replenished.
Window to the World 
The glasshouse trend has finally spread to tiny homes. This home offers 360-degree views of the surrounding desert through floor to ceiling windows. 
If you want some privacy or need to block out the light there are drop-down curtains that you can use to cover the windows.
Soft and Cozy Den
Relaxing is easy as can be in this incredibly cozy den. It offers a variety of soft cushions, fuzzy furs, and decor designed to soothe and rest a weary mind.
Marrakech Kabana
A traditional Morroccan Kabana has a lot in common with a tiny home. Both take up a very small footprint, and offer a more sustainable living situation than modern homes. 
This Kabana was made to look like traditional construction with a thatched roof and natural wood walls. The door is where it's really at though, with an intricate design carved into the front.
Wood-Grain Dome Life
Geodesic domes have long been hailed as one of the strongest and most durable styles of building available. This dome uses natural wood panels to create a warm and inviting home.
It has ample space for relaxing, a cracking wood fire, and a comfortable seating area to enjoy a meal with friends and family.
The Darfield Earthship
The Darfield Earthship is much more than a home. It's an experiment in cold climate homesteading and represents more than ten years of hard work and trial and error.
A collaborative project between a group of eco-conscious pioneers, the Darfield Earthship is stunning to look upon and incorporates every element of its surrounding environment in the design.
Reclaimed Living Space
This sustainable cabin was built from locally reclaimed materials in an eclectic style. The appearance varies from panel to panel and board to board, creating a fusion style that fits the image of the structure.
It has an angled shed-style roof with plenty of headroom inside. 
Natural Earthen Bedroom
Natural earth has been used as a building material for thousands of years. When layered thick enough it gives you excellent insulative properties and a really nice appearance.
This bedroom has all the modern conveniences you could want yet still matches the aesthetic of traditional construction. 
Bright Tiny Kitchen
This classic tiny home design uses clean lines and a simple color pattern of white and natural wood with touches of dark gray to create an elegant modern style. It adds in natural touches from plants and crawling vines.
The kitchen has butcher block countertops and a full range with oven.
Aircrete Dome Home
Aircrete is a lightweight concrete material created for easy use in the developing world. It's been used to great effect with dome-style buildings, including this really cool dome home that looks like something straight out of Star Wars.
It has an incredible interior with wall sconces and a beautiful chandelier in the center.
The Green Roofed Burrow 
If you ever wondered what life in a Hobbit hole was like, here's your chance to find out. The Burrow is a delightful little cottage located in the Welsh Hills that's available for travelers and adventurers to book.
It features a natural turf roof, full kitchen space, and beds for the whole family. It's situated on a centuries old family farm and has a truly storybook look to it.
Bright White Turtle
Another tiny home from Turkish builders Turtle Homes, this one goes for a brighter and more clean-cut look. The interior has a bright white focus with dark wood floors and wooden accents throughout.
It has a storage staircase rather than a ladder and a really cute frosted glass door between the bathroom and the kitchen.
Reclaimed Hermitage
This tiny little treehouse hermitage only has room for one and lacks many modern amenities, but still embodies the spirit of the tiny life. It was made entirely from reclaimed and found materials and almost looks like it grew out of the local wilderness, rather than being built.
Space Age Naturalism 
Another Aircrete dome structure, this one combines natural building styles with space-age materials to create something truly special. It has a comfortable main room with a wide-open side facing out over a small pond.
Plenty of storage space is built right into the walls and a gentle golden glow comes from the stylish ceiling fixtures.
String Lit Backwoods Getaway
There are cozy spaces, and then there's this twinkle-lit cabin in the woods. It's built to incredibly rustic standards but embodies everything I think of as comforting and relaxing. 
It has a pair of couches and a floor bed on the lower level plus an additional sleeping loft above. I can't think of a better spot for a tiny house vacation. 
Luxe Reno'd Airstream Home 
New Airstream travel trailers cost a pretty penny these days, but if you're willing to renovate an older one, you can seriously save. It also gives you the chance to really make your mark on your home.
This luxed out Airstream has been completely retrofitted for an ultraclean modern look. It has gorgeous butcher block countertops and retro-futuristic appliances.
Norwegian River Eye
If you've ever wanted to experience the true feel of the Norwegian wilderness, the River Eye cabin is a great way to do it. It has a very modern design with an open floor plan, floor-to-ceiling windows, and multiple levels.
This gives it an incredible view out over a frozen river and the Norwegian countryside.
The Colors of the Rainbow 
A marvelous example of Earthship wall construction. Concrete is poured around reclaimed soda bottles to create a sturdy wall that allows natural light in all the colors of the rainbow to filter through.
Mountain Modern Yurt
Pacific Yurts is well known for its sturdy and easy-to-assemble yurts. This builder took one of the larger yurts and built an interior kitchen and living space designed to maximize their available square footage.
Built from light wood, it includes a full kitchen plus a loft space above to take full advantage of the high ceiling in the center of the yurt.
Snowglobe House
While not technically a house in the strictest sense of the word, I couldn't resist including this snowglobe bedroom on the list. It's an inflatable winter dome that covers a bed with storage chests and lights.
Heated air is pumped in continuously to maintain a comfortable temperature and keep your room from deflating. It gives you a gorgeous 360-degree window on the woods around you and a clear view of the stars above.
Plush Pastels
One of the coolest things about Earthships is how many color choices you have available to you. The natural light they thrive under makes a beautiful statement on walls and accent points of various colors.
Light and Airy Kitchen 
#BusLife hasn't taken off quite as much as #VanLife, but that's not to say there aren't amazing skoolie bus homes out there. This particular skoolie has a light aesthetic with natural wood ceilings and cabinets, a tile backsplash, and plenty of natural lighting.
The builders designed it to be as energy-efficient as possible for a 100% off-grid lifestyle. 
Green Magic Galicia Home
The Galicia Home is an Earthship-style dwelling designed by Green Magic Homes Australia. It's built to take advantage of natural heating, cooling, and lighting to help reduce your energy usage.
This lets you live a more sustainable lifestyle in a gorgeous and naturally beautiful home.
The Vista Dome 
The Vista Dome is an ultra-modern geodesic dome home with a gorgeous white and natural wood color palette. It offers comfortable digs with a wood stove, loft space, and plentiful natural lighting.
One of the coolest things about the dome is the wood stripping in triangular patterns at all the joints. It really highlights the type of home you're living in.
Panorama Glass Lodge
If Iceland has been on your bucket list, you should definitely try to book a night or two at the Panorama Glass Lodge while you're there. It's a stylish Icelandic tiny home that combines rustic styling with ultramodern architectural touches. 
The bedroom is built with floor-to-ceiling windows on every side and a glass ceiling. This allows you to take in every bit of the beautiful Icelandic countryside.
Homes and Communities for Veterans
This wonderful little tiny house community encompasses 49 brightly colored tiny homes built in Kansas City. They're all part of a project to provide homes to homeless veterans in the area.
They're well-constructed tiny houses with a mix of shed and gable style roofs. Truly though, it's the thought behind the homes that steals the show here.
Salty the Bus
Salty the Bus is a converted bus dwelling made specifically for surfing and traveling to the beach. It has dedicated storage space for surfboards and beach gear plus a fully functional solar power system.
The interior is comfortable and laid out with considerable style.
The Dymaxion House
The house of the future! Circa 1946 that is. Created by world-renowned inventor and architect Buckminster Fuller, the Dymaxion House was his vision for the sustainable, modular home of the future.
It incorporated many of the features that draw us to tiny homes, including effective use of small spaces, passive heating and cooling, and ease of assembly and movement.
Bunk Bed VanLife
#VanLife is all about maximizing small spaces and making do with less. This incredible skoolie rig packs four single bunk bed, as well as a tiny kitchen into a tiny space.
A full-length skylight takes advantage of every ray of sun available to make what should be a cramped space feel much brighter and more open.
Yunnan Dome Village 
This delightful little community of white geodesic dome houses is located outside Yunnan, China. It's made up of eight small homes placed on a gorgeous forested hill.
It's a great example of how modern architecture allows you to build your home around natural beauty rather than on top of it.
Natural Earthen Fireplace
Source: SustainableLifeSchool
Earthships all do their very best to use local materials and simple building practices. This molded fireplace was built right into the body of the house and effectively radiates heat out into the room rather than letting it all run up the chimney.
Winter Wonderland Cabin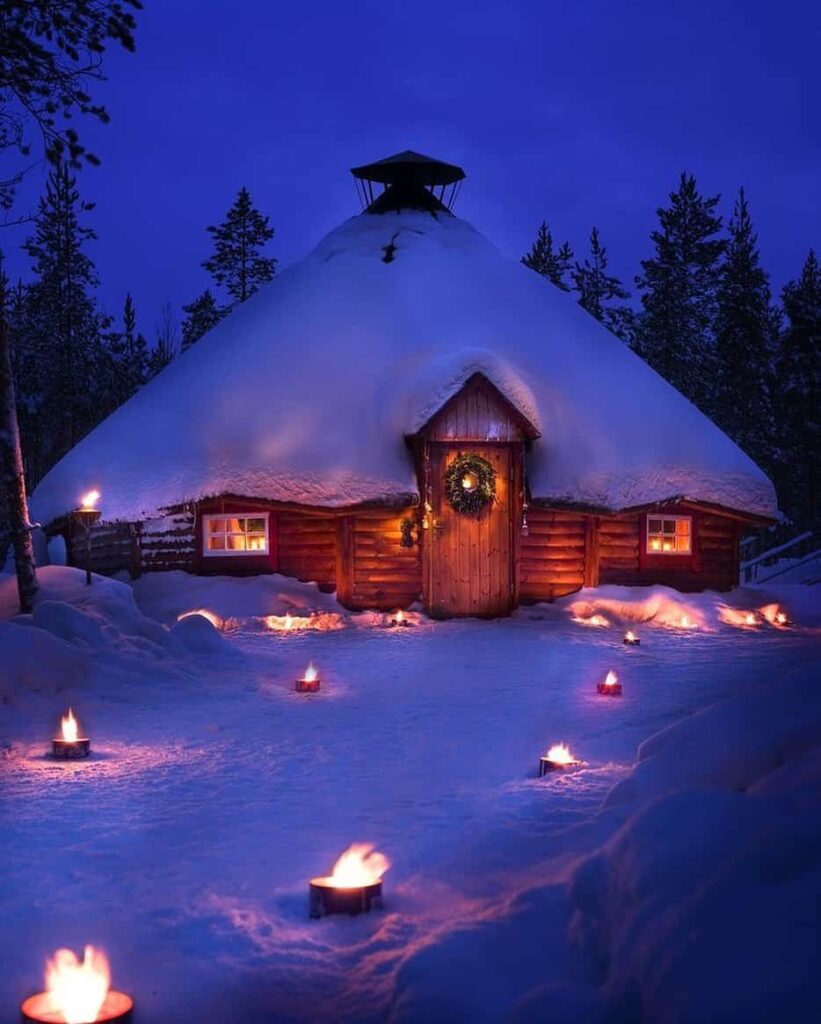 A circular design and the use of natural wood cabin materials created the perfect aesthetic for this winter-proof cabin. It blends in perfectly with its surroundings and has a sharply-peaked roof designed to shrug off huge snow loads.
The path lights and merrily glowing candles in the window are just the cherry on top for this perfect winter getaway.
The Desert Oasis
In a desert climate, it's hard to beat the comfort and passive cooling benefits of an Earthship-style home. This oasis includes a beautiful courtyard enclosed with thick walls.
This helps block the desert winds and creates a comfortable space to enjoy. The building itself is built like a greenhouse and deeply incorporates natural plantlife with the living space.
Chic Tiny Bungalow
This gorgeous tiny home uses a mix of bright white with light wood accents to create a clean and modern aesthetic. The ceiling has a delightfully organic-looking stain pattern on it and the mix of white and cream flooring really adds to the overall look.
I really love the bamboo-esque privacy screen between the sleeping loft and main living space. It gives the whole area a touch of Eastern flair.
Open Plan A-Frame
This A-frame style cabin takes the basic design of an A-frame and ramps it up to 11. One entire wall is open to the rafters and integrated with a greenhouse-style open design.
This gives the whole structure an incredibly bright and spacious feel that's hard to beat. A comfortable porch area completes the look of this delightful little cabin.
Sustainable Aussie Home
Off-grid and sustainable living is becoming a huge part of the tiny movement. This home incorporates an off-grid solar system and is certified to be made entirely from sustainable sources of wood.
It also happens to be a seriously sharp tiny home with a flat roof and delightful little pallet wood staircase leading up to the main door.
Work/Play Balance Dome
One of the best things about modern life is the ability of so many people to work remotely. This 36' geodesic dome from Pacific Domes made sure to take that into account.
It left plenty of room in its spacious interior for an impressive home office with a breathtaking view of all the natural wonders nearby.
Christmas is Where You Park It
The Tiny Movement emphasizes minimalism and learning to live happily with less. That doesn't mean you need to avoid activities that genuinely bring you joy. For many of us, decorating for the holidays is part of that.
This gorgeous tiny home has a stylish kitchen with modern touches and is fully decked out for the holidays. A Christmas tree, garlands, and tons of natural plants give it a perfect holiday feel.
Avant-Garde Home
3D printing promises to revolutionize modern manufacturing and design. In Massa Lombarda, it's already begun to show promise as the building method of choice for the future.
This example has curving walls with a distinctive-layered appearance common to 3D printed objects. It truly looks like an artist's vision of what the home of the future would be.
Rustic Chic Living Room
If you want a rustic aesthetic that's still at the height of fashion, it's hard to beat this design style. It uses fur and rough cloth with natural wood walls, floors, and furniture to create the image of a very well-to-do country hermit.
Cozy Home in the Treetops
Treehouses are all well and good, but wouldn't you like to live among the leaves of the trees? This suspended tree tent lets you do just that, with all the comforts you could desire.
It offers a pair of beds, a wood stove, storage space, and plenty of windows to check out the ground below. This particular one is located in the Herefordshire countryside in the UK and can be booked here.
The Dome of Visions
Combining a geodesic dome with the latest in interior design, the Dome of Visions in Aarhus, Denmark is an architectural delight. It has an internal structure built to maximize square footage and provide loft space.
It also incorporates natural features and suspended lights perfect for a calm mood.
Peekaboo Cleaning Storage
Baffled by where to put your cleaning supplies in your tiny home? Check out this innovative and attractive hideaway storage rack. It slides in and out when needed and is completely hidden when tucked away.
Gooseneck Tiny Shannon
The Shannon is a gooseneck tiny house built by Moveable Roots tiny homes. It's an attractive dark blue with both a gable and flat-top roof plus plenty of windows.
It uses the advantages of the gooseneck trailer to provide extra sleeping and living space, while also improving driveability.
X Marks the Home
This delightfully futuristic cabin is made with a pair of shipping containers placed one atop the other. They make a neat X at their meeting place and provide a useful floor space and attractive exterior appearance. 
Palm Springs Dome House
Palm Springs is one of the most beautiful areas of the US. For those who want to see it in style, there are few better ways than in a chic dome house.
It provides excellent insulation, 360-degree views, and a comfortable way to access local nature whenever you like.
The Ralstin House
Tiny houses don't have to be truly teeny. You can have a home that fits the tiny aesthetic even with vaulted ceilings and a slightly larger footprint.
If you're heading to Guemes Island in Washington state, you should consider booking the Ralstin House for your stay. It's got that eco-supervillain look going in spades with all the amenities you could desire.
Alaskan Off Grid Home
Located near Homer, AK, this tiny home is fully off-the-grid and designed to thrive in the cold Alaskan winters. It has a full solar power system and a comfortable porch area to enjoy in warmer months.
Bring the Outdoors to Your Door
For a lot of tiny dwellers, the great outdoors provides a limitless supplement to their indoor living space. You can really see that ethos in the innovative design of this container home.
It has a relatively small-closed in living space, but a truly massive-covered outdoor area. Even better, it uses a seriously sharp design style that makes it very nice to look at.
Natural Support Earthship
Earthships are all about being at peace with the natural world and using local, sustainable materials. From where I'm sitting, I don't think there are many more sustainable materials than whole trunks and branches of local fallen trees.
The gorgeous aesthetic it gives is just icing on the cake.
Gorgeous Romani Caravan
The Romani people were the original vehicle dwellers. Their brightly painted caravans, known as Vardo by the British, were a well-known sight throughout Europe. 
Unless you own a team of horses, they aren't really practical as modern living spaces, but they are incredible to look at and inspiring to think about the people who lived in them.
The Cap Jaseux Dome
Quebec has some spectacular natural scenery. If you're ever around Cap Jaseux, you should consider renting out this bright and airy dome home as your base camp.
It has dozens of clear window panels to allow tons of natural light in. You can also enjoy stargazing on clear nights through the skylight above your bed.
Latitude Net Zero Homes
Protecting the environment is everyone's responsibility. With this sustainably-built and operated home, you get a turnkey solution to that problem.
It has integrated solar systems, is made using sustainably-sourced materials, and is ecologically landscaped with local plants. 
Skoolie Porch Space
The Skoolie movement is picking up steam as people combine the convenience of #VanLife with the need for greater space. This particular Skoolie owner added a next level touch to the back of their bus.
A drop-down wood panel gives you a porch you can access through the back door of the bus. It increases your living space then folds back up when it's time to move on.
Bohemian Living Room
The living room is the most communal part of your home. It's where people gather and share their lives. This incredible living room concept incorporates elements of rustic life with rough-hewn furniture and furs, plus the beauty and energizing presence of growing things.
Fusion Container Home
Container homes are definitely cool, but they don't always give you the most flexible floor plan. This home uses a pair of shipping containers melded with a central core to maximize the usable space and create a really cool look.
The main structure is open on all sides to provide as much natural lighting as possible.
The Home of Tomorrow
It's official, an entirely 3D printed home has now received a certificate of occupancy. This incredible little house was actually printed by machine rather than built by the hands of man.
It's cheaper, faster, and easier to build than traditional stick-built homes and honestly looks really cool. I'm especially fond of the retro-futuristic overhang porch cover.tiny