Influencers have become some of the biggest celebrities of our age.
Millions of people look to them to find out what's hip, trendy, and above all, cool.
The tiny house movement has its crop of amazing social media tiny dwellers, many of whom have tiny homes that are utterly drool-worthy.
We've picked out 14 different tiny house influencers and channels that offer some of the best and most attractive tips and tricks on tiny house design and styling.
The Top Influencers To Turn To For Tiny Home Interior Decorating Ideas
Here are some incredible tiny lifers who've taken their small spaces to the next level. They've all figured out ways to put an elegant stamp on their tiny homes in an inspiring and incredibly trendy way.
1. Robert, Samantha, and Aubrin Sage – @shed_tinyhouse
Robert and Samantha Sage have been exploring alternative living for decades.
In 2008 they packed up their Honda Civic to spend 30 days blazing trails coast to coast in the US, then did the vagabond thing in Europe just a few years later, hopping trains with their trusty hiking packs.
They've spent the last six years exploring just how much room you can find in a 200 sq ft space, converting their 'Shed' home into a gorgeous example of multi-use spaces.
Their fittings, fixtures, and furniture are attractive and always designed to maximize the space available. 
They recently added a new member to the family and decided to upgrade to a 'massive' 665 sq ft apartment.
Shannon Soine has been living in a tiny home with her husband since 2016.
They're no strangers to living in small spaces, having spent their honeymoon wandering the Pacific coast in their SUV to catch the next wave.
They've set up their life to allow travel without direction, whenever and wherever they want to go.
Their current home is a 210 sq ft tiny home that is set up to emphasize space and comfort.
It's decked out with gorgeous little features in shades of white and gray that serve to maximize the natural light while still showing their personalities.
My personal favorite was the hideaway trundle bed peeking out from their combined office/closet space
Check out Shannon's tiny home build for all kinds of furniture, design, and decorating ideas for a minimalist lifestyle.
Whitney Leigh Morris is a blogger and small spaces lifestyle consultant living the dream in Venice, California.
Her tiny home, the 400ish sq ft Tiny Canal Cottage, is an OG tiny house dating back to 1924. 
It's a beautiful craftsman style home that feels way larger than it is thanks to her clever and space-saving design features.
Pocket doors, permanently placed storage furniture, and vaulted ceilings help give her tiny craftsman home a massive upgrade in apparent size.
Her website includes links to her various tiny living projects and a way to contact her to find out more about her small spaces lifestyle advice.
She has a book that I highly recommend called "Small Space Style: Because You Don't Need to Live Large to Live Beautifully." 
It's a super helpful resource for making the most out of your tiny home and ensuring the most efficient set up.
You can find it here on Amazon. 
Nicolette is a 24-year-old nanny and content creator living with her boyfriend in a300 sq ft tiny home built onto a 28 ft trailer.
They designed and built their home all on their own, to live a sustainable and eco-friendly life, plus saving on housing costs near their home of Berkeley, CA. 
Their home is a gorgeous THOW with a composting toilet system, shower, full kitchen, and plenty of space for their possessions.
Check out this video to get a full tour of her tiny home.
It has a chic and modern design ethos with a black/white color palette plus a range of multi-use storage surfaces.
Instagram Influencers Perfect For Getting Tiny House Space Saving Design Ideas
One of the biggest questions I hear from people curious about the tiny life is how storing things works.
Most people are used to significantly more closet, drawer, and other storage space than a tiny home provides.
These tiny lifers have all gone way above and beyond in finding innovative ways to maximize a small space.
Jenna Spesard was living a pretty standard modern life when she made a snap decision to do something different.
In a single year, she traveled with her adorable tiny home through 30 different states and five Canadian provinces. 
Looking at her home, you can see how she pulled it off.
Her tiny home has a rustic appeal that matches the adventurous spirit she puts off.
There are reclaimed wood cabinets and drawers, plus some nice wall mounted storage for her instruments, winter sports gear, and so much else.
Bryce Langston, like many young New Zealanders, despaired of ever owning his own home.
All that changed when he found out about tiny homes.
With a background in permaculture and sustainable living, Bryce decided he was the perfect guy to build a tiny home to make an end-run around the incredibly high real estate prices in his hometown of Auckland.
He designed a sustainable and eco-friendly home with tons of really cool features.
His page not only showcases his own home, but also all kinds of incredible THOWs, tiny houses, and other sustainable choices.
Many of them combine gorgeous designs with really useful space-saving and storage enhancing features.
Influencers To Check Out For Awesome Tiny House Furniture and Design Ideas
The design and layout of a tiny home will be one of the biggest factors in how easy it is to live in. Likewise, tiny house furniture needs to fit the ethos of multiple uses and maximum compactness.
Tiny House Basics offers a ton of useful information on tiny house design, construction, and tiny living in general.
It's full of beautiful pictures of tiny homes, tiny dwellers, and their space-saving design hacks that make tiny life so delightful.
You'll find everything from basic build progressions up to detailed explanations of the best way to balance the colors of your space.
It's a great place to check out a lot of different design styles in the tiny movement and find one that fits your tastes.

The Handcrafted Movement is a tiny home designer and builder.
You can check out some of these awesome homes or find great ideas to use for planning out the feel and style of your own tiny homes.
They're based out of Vancouver, WA and have a modern style that most tiny enthusiasts will find appealing.
You can find examples of homes they've built plus all kinds of useful storage, design, and space-saving tips.
Compact living is a great way to find inspiration for any tiny lifestyle you can imagine.
They feature gorgeous tiny homes from around the world plus so much more.
You can find examples of off-grid A-frames, adorable yurts, and tons of other amazing small spaces.
If you're new to the tiny home scene it can open your eyes to the many different types of tiny homes and the amazing design features available.
Luke Thill is an Iowa born teenager living the true tiny dream. Alongside his brother, he built a gorgeous tiny home plus a matching teardrop camper to take their tiny life on the road.
It's truly tiny, with a small living space on the first level and a compact sleeping loft above, but fits all his needs.
You can take a video tour of a day in his tiny life here.
His home has a rustic appearance with cedar shingles all along the sides and a generous roof overhang to create a cute little porch.
He's an inspiring example of how achievable the tiny dream is with a little bit of work and planning.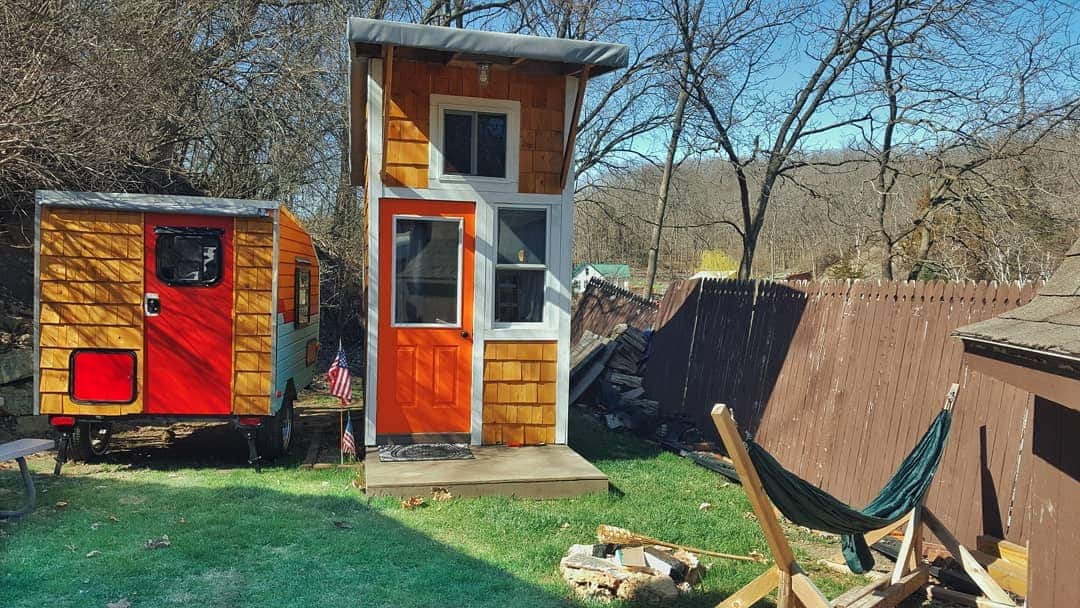 The Best Influencers For Whimsical and Outside the Box Tiny House Design Ideas
One of the most enticing things about tiny homes to me is just how wild they can be.
Without the restrictions of zoning boards and HOA covenants, you can build exactly the kind of home you want to, inside and out.
Here are some cool examples of this in practice.
Jacob Witzling is the poster child for fairytale living structures.
Since he built his first backwoods cabin at 16 he's pushed the envelope for fantastic and whimsical structures.
His highpoint so far is a truck cabin that's truly a moving work of art.
All his designs match the natural landscape they inhabit and are built to be off-grid sustainable.
You need to see his style to understand what I'm talking about.
The Best Tiny House Influencers For Tips On Sustainability
One of the biggest draws of the tiny house movement comes from how sustainable they can be. They use just a fraction of the materials a regular house requires and are perfectly suited for off-grid living.
Paul and Annett truly embody the dream of sustainable living enthusiasts the world over.
Their Australian tiny home is self-sufficient, with a rainwater catch system, biogas digester, and a fully self-sufficient solar power system.
Even better, they grow their food and process their greywater for a fully sustainable lifestyle.
Their tiny house itself is filled with natural light and tastefully decorated with books and nature the predominant features.
Check out their page for tons of tips on off-grid living, minimalism, and all kinds of other topics.
The Best Influencers To See What Tiny House Living Is All About
Curious about the tiny life but not sure if it's for you?
There's no better way to find out if you could make it in a small space than test driving it.
13. Bela Fishbeyn – @belafish
Bela Fishbeyn and her growing family wanted a way to live comfortably in Santa Cruz while still having the flexibility to travel.
They went with an innovative and stylishly outfitted tiny home with tons of really cool features.
It has a sleeping loft, elegant fittings, and a truly incredible garage door style wall opening that brings the outdoors into their home.
Even better, it's occasionally available on Airbnb when Bela and family get the travel bug. 
Rather than a single tiny dweller, Getaway offers prospective tiny lifers the chance of a lifetime.
To experience a tiny life without the commitment of buying a tiny home.
They offer gorgeous tiny homes near major cities and beautiful natural areas.
The homes themselves are state of the art and utterly adorable. Looking at their pages can even offer great tips on how to plan out your own tiny home.