Buying a home in America is more expensive today than ever before. And as house prices continue to rise, for most people, home ownership is becoming a distant dream.
Thankfully, tiny houses are a great solution to this housing crisis, can be crazy affordable and are very customizable to fit the needs of different people.
Whether you want a Tiny House On Wheels or a foundation tiny house, there is most likely one in your budget.
In this article, we'll go over all the different tiny house options and what they cost, so you can make a better informed decision on which tiny house is right for you.
How Much Does A Tiny Home Cost?
According to a recent 2015 survey, it costs approximately $23,000 to build a 246 square foot tiny house.
This survey is great to use as a reference point, but needs to be taken with a grain of salt.
Why?
Because it really varies on the type of tiny home you are looking to have (which we discuss in detail in the next session)
While some DIYers can build a tiny home for under $5,000, more luxury homes can go upwards of $100,000 or more.
Cost By Type of Tiny Home
There's considerable debate on just what is and isn't a tiny home. For our purposes we've chosen to cover three types of homes that make up the vast majority of the market. These are tiny homes on wheels (or THOW), permanent or foundation built tiny homes, and container homes.
Tiny House on Wheels (THOW)
When most people picture a tiny home they're actually picturing a THOW. These are the classic, adorable little homes built on trailers. They're usually between about 100 and 400 square feet and include all the comforts of a home, just tinier.
If you entirely DIY your THOW and use a majority of reclaimed materials, you should expect to spend between $5,000 to $30,000. The WayWardHome has a great story about a family who built their tiny home for $30,000 with recycled materials from a barn.
However, you can significantly cut that down a good bit if you forgo traditional plumbing and go with a more environmentally friendly composting toilet and stored water system.
Despite many people building THOWS incredibly affordably, they can quickly become the most expensive category of tiny home.
This is because of the following 2 reasons:
1. Large trailers, which are a necessity, need to be factored into the building cost
2. The added expense of using materials designed for occasional movement that occur at highway speeds.
Permanent Tiny Homes
Permanent tiny homes have the potential to be the cheapest tiny living option. If you're willing to go extremely basic with your amenities, you can build a lovely home for less than $5,000. One route for this is purchasing something like a weathertight shed or outbuilding kit and adding a bed and fittings.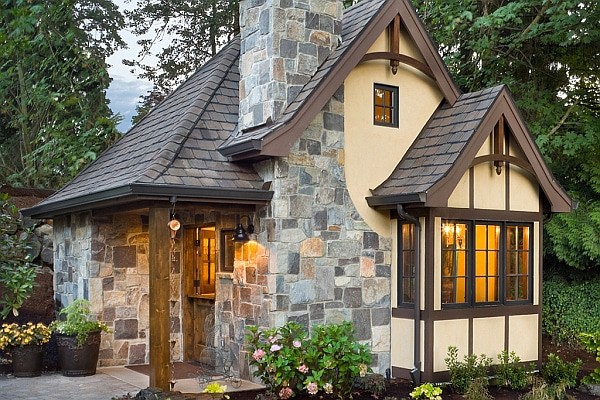 On the other end of the spectrum are truly wild tiny homes. Our personal favorite is the seriously tricked out Hobbit Hole style home. While still technically tiny, these have decidedly super-sized features and fittings. You can spend well over $100,000 on high-end features like countertops, top-of-the-line appliances, and large scale solar power systems.
Container Homes
Container homes are basically the jack of all trades of the tiny home community. They can be built on wheels, they can be attached to a permanent foundation or they can be moved around without wheels. With this comes a truly impressive range of prices.
Container homes are also one of the most affordable options for building a tiny home. They're weathertight and highly durable by design. Used 20' containers can be found for right around $2,000. All you need for a livable home is to cut a few windows, add in some insulation and flooring plus furniture.
If you do the work yourself and go for a very basic build, it's possible to get a comfortable container home for right around $5,000. This won't have traditional wiring or plumbing, relying instead on alternative systems, but will be weathertight, heated and have a bed to sleep on.
On the other end of the spectrum are companies offering luxury container homes. These include tiny style homes, all the way up to units made using four or more different containers. For truly top-of-the-line models, you can expect to spend upwards of $100,000.
DIY
One of the most popular options for prospective tiny lifers is a DIY tiny home. Tiny homes are a fraction of the size of traditional homes. Building one seems a lot less intimidating than building a standard 1,500 to 2,000 square foot home.
There are several ways you can build your own tiny home, ranging from finishing out a shell to designing and constructing a kit totally from scratch.
Tiny Home Kits
One of the best ways to save money on your home without building from scratch is a tiny home kit. Kits include everything you need to build the tiny home, but allow you to perform the labor yourself. These are available in lots of different types and styles, including:
THOW
Permanent Structures
Cabin Kits
A-Frames
Most tiny home kits come with precut wood or steel structural materials, a vapor barrier, and all the needed fixtures. You can get a basic kit for as little as $5,000.
The thing to keep in mind with these kinds of kits is what they actually include. Most kits are purely structural. Higher-end ones will sometimes come with flooring or wall paneling but generally, they don't.
Make sure you factor in the cost to finish, furnish, and clad your tiny house when pricing out a tiny home kit.
Full DIY
With 100% DIY homes it's really difficult to give a price range. The bottom of the market starts out around $6,000 to $8,000.
This is a truly tiny home that you build entirely on your own with mostly recycled or found materials. Square footage rarely exceeds 100 to 150 square feet and the fixtures will generally be basic, but comfortable.
Another point to keep in mind is that tiny homes in this price range usually aren't mobile. A quality tiny home trailer from a manufacturer like Big Tex will run you at least $4,000 to $5,000 for reasonable square footage.
From there the sky truly is the limit. When building your own tiny home the only real restrictions are your skills and budget. You can build a home from the finest materials or search for the best bargains.
Weather Tight Tiny Shells
A very popular option for many first-time tiny lifers is purchasing an unfinished, but watertight shell. This allows a professional to handle the structural components of the build. Many people are fine with painting walls or laying flooring for their tiny home, but balk at the thought of roofing their own home.
Weathertight tiny shells start at around $8,000 for a THOW and as low as $2,000 for a non-wheeled structure. If you like the thought of keeping costs to a minimum, but aren't confident in doing structural building, work this is a great option.
What's The Median Cost for A Custom Tiny House Build?
Base model tiny homes and luxury tiny homes can vary greatly in price. A tiny home built in Colorado might cost more than a tiny home built in Texas due to differences in the cost of building materials, as well.
In 2017, the median cost for a professionally built tiny home was $59,884. For many people, this is far more affordable than a site-built home. In fact, tiny homes have opened-up the housing market to many people who would not be able to afford a new home otherwise.
Your tiny home could be built for under $50,000 if you choose to go barebones. Some builders will provide a shell, with the interior finishing left up to you.
On the other hand, some tiny homes are very luxurious. Living in a tiny home doesn't mean that you'll need to give up a comfortable lifestyle. It only means that you'll live with less space.
Remember that you are in control, and your budget is truly up to you. Investigate each builder and find out where you can save money when your budget is tight. You'll find that many builders will work with you to meet your needs. Conversely, they are always happy to help you with upgrades as well.
Buying a Tiny Home
There are now tons of commercial tiny home builders and manufacturing companies. Each offers a combination of standard homes and customized options. The cost of each home will vary based on where it's built and what kind of features you select.
We gathered the pricing for some of the most prominent US tiny home companies to help you figure out if buying is for you.
Tumbleweed Tiny House Company
Tumbleweed is one of the largest tiny house builders in the US. They offer a range of standard floor plans as well as the option to fully customize your home.
Their prices start average around $80,000 to $90,000 for fully built out models. You can also buy weathertight shells and finish out the interior yourself. If you're reasonably handy you can potentially save thousands of dollars.
Sprout Tiny Homes
Sprout Tiny Homes is a Colorado-based tiny home manufacturer. They produce several standard tiny home models, custom homes, and are in the process of creating a tiny home community for their buyers.
Sprout tiny homes start at around $60,000, but can go as high as $120,000, depending on the finish and feature pack chosen.
Custom Container Living
Custom Container Living is a niche tiny home manufacturer focusing on the container home market.
They offer one of the largest selections of homes, including commercial models. Their pricing is highly competitive, though they don't make THOW models.
Their 20' container homes start at around $40,000, but can quickly climb above $100,000, depending on the feature package.
Incredible Tiny Homes
Incredible Tiny Homes is well known in the tiny home community for their inventive designs and craftsmanship. One of their most famous designs is the Hobbit House on wheels.
They're also one of the most affordable manufacturers to work with. Finished models start as low as $25,000 for container homes on wheels. This includes full wiring and plumbing, as well as the basic fixtures needed to make it livable.
Are Tiny Homes a Worthy Investment?
When it comes to affordable housing that you can customize to your individual needs and preferences, there is a lot to love regarding tiny homes.  
While luxury tiny houses can run over $100,000, it is not a stretch to build a great tiny house for under $5,000, as long as you're willing to get your hands a little dirty.
And with housing becoming more and more expensive, tiny houses, in many ways, are the future, especially for those who are passionate about minimalistic, sustainable, moveable, and community-oriented style living.  
With that being said, for most Americans, the greatest investment growth they'll see in their lives is through their primary residence.
It's accepted as fact that just about every home will rise in value while you live in it. For tiny homes, though, this is rarely true.
The Benefits Far Outweigh the Downsides
When it comes to affordability, you can't go wrong with tiny houses; this is especially true if you're willing to do some or all of the labor yourself.
Even the highest end of tiny homes only cost about $100,000. Compare that to the median home price of almost $235,000, and you end up with a beautiful and highly customized living space at a fraction of the cost.
If you're seriously considering adopting the tiny living lifestyle, we suggest renting a campervan to see how to you in a confined living environment. We suggest checking out Outdoorsy where you can find them in most large cities around the USA. If you currently reside in Las Angeles, you're in luck, we have a comprehensive review for the best campervan rentals in LA right here. This experience will help you determine if this kind of lifestyle is right for you.