'Going tiny' has become a popular dream for tons of Americans, young and old.
The desire to free yourself from the things holding you back and weighing you down, and live a sustainable and affordable life is alluring, especially given how affordable the tiny life can be.
If you're willing to do the work yourself, tiny homes are one of the most inexpensive and sustainable living options available.
According to a recent 2015 survey, the average cost of a DIY tiny house is $21,000 (although the price range of tiny houses vary drastically).
We picked out the ten most beautiful tiny homes we can find to show you how easy it can be to build beautiful tiny homes within any budget.
Beautiful Upcycled DIY Tiny Home For Under 000
Macy Miller got into the tiny house movement early. Way back in 2011 if you can believe it.
She built out her 196 sq ft home on the bed of a 24 ft trailer.
To keep costs down, she used reclaimed building materials whenever possible.
Don't think that means it looks cheap though.
The pallet wood sides and corrugated steel accents give it a retro-futuristic look that's a sight to behold. 
Through her efforts, she was able to build the whole tiny house for under $12,000!
It was designed to be as affordable to live in as it was to build. Sustainable and cost-saving measures like a composting toilet and radiant floor heating help complete the overall theme.
PinUp Houses Can Be As Cheap as 00
If you love the idea of a tiny home, but don't want to worry about drawing up plans, PinUp Houses have the answer.
They offer dozens of different tiny house plans and blueprints ranging from truly tiny sub 100 sq. ft designs, all the way up to roomy several hundred sq. ft ones.
What really sets PinUp Houses apart is the sheer variety of their designs.
They have standard rectangular foundation homes, but also cylindrical towers, classic log cabin styles, mini A-frames, container homes, THOWs, and so much more.
You can choose from rustic, modern, futuristic, and tons of other building styles that match your own aesthetic.
Best of all is how affordable they are.
Smaller designs can be built DIY style for as little as $2,100 . Even their largest home designs only cost around $20,000 to $30,000.
That's attainable for just about anyone willing to put time into building it.
Unique, Futuristic, & Awesome BiniShell For Under 00
If you're looking for an affordable tiny home that stands out from the crowds, the BiniShells concept is a great way to do it.
It uses a series of inflatable airbags deployed inside a rebar shell to create gorgeous, concrete bubble homes.
Once the concrete sets, you can design the interior however you like and decorate the outside.
Because it requires so much less work from contractors, BiniShells costs barely half of what a traditionally constructed home does.
They also use fewer resources and are built nearly three times as fast. 
They're great for people who want a modular building concept for their home, but don't want to worry about long construction times.
The Golden Tiny House Was Built For Under ,000 Using Mostly Recycled Materials
The Golden Tiny House was the brainchild of Melinda and Chris Golden out of Atlanta, GA.
They wanted a way to live comfortably with less while reducing their environmental impact and expenses.
They used almost all recycled materials, including the trailer from an old camper, to build the Golden Tiny House.
It ended up being one of those beautiful tiny homes people can't believe only cost $5,000 to build.
It has a corrugated steel roof, a loft sleeping space, and everything two people would need to live comfortably.
What's really cool is that they documented the costs of every step on their build process.
This Google Spreadsheet allows you to see the final price of the Golden Tiny House and a full breakdown of what they spent.
This Gorgeous Tiny Home Treehouse In Nature Costs Only ,000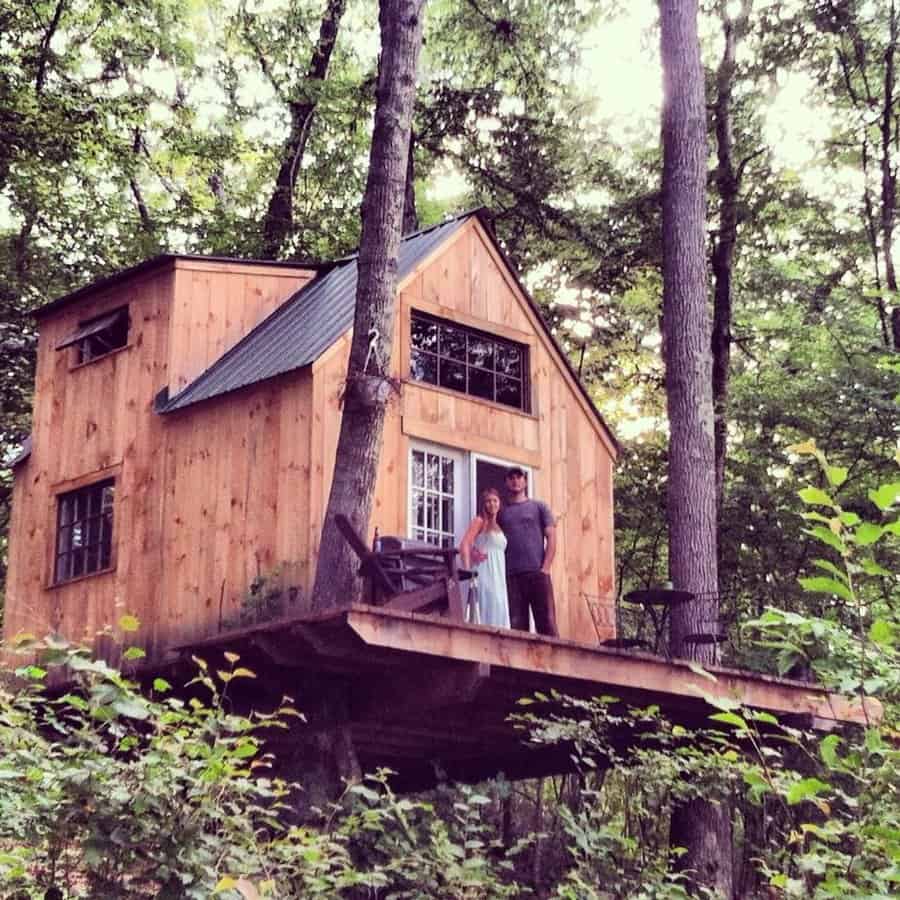 When David Herrle made a New Year's Eve promise to build his wife a treehouse, he never could have imagined it would become their second home.
For just $4,000, he built a beautiful tiny home with a loft space, an adorable living area, and endless outdoor space.
It took him just six weeks to build it using mostly reclaimed materials.
He went with natural wood siding and a low-maintenance aluminum roof so it would last for years to come. 
True to its name, the Wee House Tree House is supported by four local trees rather than a trailer or foundation.
It makes for a delightfully cheap tiny home with an amazing story.
The Birch ,000 Tiny House
When Wesley Birch and his wife decided they wanted to go tiny, they were shocked at the price tag on some ready-to-buy homes.
$50,000 to $60,000 was common, and they just couldn't see spending that.
Determined to do it themselves for under $10,000, they purchased tiny house plans and used majority reclaimed and salvaged building materials.
They ended up spending $8,000 for a twenty-four foot long, eight-foot-wide, thirteen-foot tall tiny house with a full bathroom, kitchen, a dedicated living area, and two loft spaces.
They offer a ton of great advice to those thinking about doing their own DIY tiny house, including my personal favorite "buy a truck, you'll need it".
'Lil Red Tiny House Fully Built For Only ,000
If you want to go truly tiny with your tiny home, the 'Lil Red Tiny House is perfect for inspiration.
Built by Ben Strong in Melbourne Australia, the 'Lil Red is a 90 sq ft tiny home built on a 14 ft trailer. 
It sold for $18,000, remarkably inexpensive for a fully built tiny home, and was fully wired and plumbed.
Some of the cool features Ben built into the beautiful 'Lil Red tiny home include a combined kitchen/living space with a comfortable storage couch, a cozy sleeping loft, and an outdoor shower system to save space inside for living.
Check out this in-depth video tour to see what really makes the 'Lil Red Tiny House tick.
Liberation Tiny Homes Shells
If you really want to DIY a tiny home but are a little worried about the heavy lifting of framing, wiring, and plumbing a house, Liberation Tiny Homes has you covered.
They offer weather-tight shells that are structurally completed and ready for you to add all the cosmetic and living touches to your satisfaction.
They're available from basic weather-tight stage one shells, all the way to stage two+ shells with unpainted walls, wiring, plumbing, and basic appliances.
You can browse their full catalog to find out more about the options available to you.
Arched Cabin Tiny Homes For Under ,000
Looking like a cross between a Quonset hut and a wilderness cabin, Arched Cabins give you a weather-tight exterior at an amazingly affordable price.
You can get a 96 sq. ft model for just under $2,000, perfect to finish-in with the fittings and furniture you love.
The standard pricing includes building instructions, curved cabin walls, insulation, floor panels, a ridge beam, and rubber foam inserts for eaves and joints, which is everything you need for a sound structure.
They're available in a range of colors and can be delivered right to your build site.
Even better, their modular design allows you to erect an Arched Cabin on a foundation, supports or even on a trailer for a gorgeous THOW (tiny house on wheels).
0 Transforming Tiny Home
You read that correctly, $500 for a fully livable 83 sq. ft tiny house. It was built by Scott Brooks to be his perfect cozy home in the woods of Washington State.
He did all the work himself, using reclaimed and salvaged building materials to keep costs low.
Despite its truly tiny size, it has a desk area, gas cook stove, folding bed, and storage space for all the essentials.
It's definitely basic, with no solar panels, no plumbing, and only an outhouse for when nature calls, but it's truly a testament to what can be achieved with ingenuity, hard work, and the desire to live intentionally. 
Here's an awesome video of Scott himself giving a full tour of the 'Transforming Tiny Home'.
How Much Does it Really Cost to Build a Tiny Home?
Building a tiny home can be really, really expensive, but it can also be very affordable. There's a huge range of prices depending on the features of a tiny home and how it's built.
As a result, as shown above, you can easily build a beautiful, affordable tiny home under $10,000, and as Scott showed, for only $500!
Or you can have all the gadgets, amenities, and special features that can cost in the hundreds of thousands.
The choice is yours.
If you're willing to put in the work and look for alternative sources of building materials there are tons of ways you can cut costs and build your perfect tiny life on a budget.
For a more in-depth look at tiny house costs, you will want to check out our article "How Much Do Tiny Houses Cost And Are They Worth The Investment."